Vegan Journey van Mark Schadenberg | Plant-based | Coach | Fitness
08/03/2019 17:50
Mark Schadenberg is vanaf december 2017 helemaal (cold turkey) over gegaan naar een plant based lifestyle. De reis hiernaartoe was voor hem een rollercoaster. Hij deelt graag zijn verhaal met ons.
Vanaf welk moment besloot je om te kiezen voor een veganistisch voedingspatroon?
Mark: 'In 2015 moest ik op oefening voor de Luchtmacht. Ik was toen militaire verpleegkundige en volgende de opleiding Advance Survival Course. Hierbij gaat het om overleven terwijl je gezocht wordt door de vijand.
De weeromstandigheden waren op dat moment enorm slecht. Denk aan vriezen, sneeuw, regen etc. Na een week overleven heb ik Frostbite opgelopen. Frostbite is bevriezing waarbij schade is aangericht door extreme kou aan de huid en andere weefsels. Nadat ik deze opleiding behaalde kwam ik thuis en toen begon de ellende… Mijn tenen deden zo'n pijn en na een dag kreeg ik blaren. De blaren werden necrose punten (dood weefsel). Vijftien weken lang zat ik vast aan morfine pillen met vele tranen.
Tijdens deze periode was ik onder behandeling bij een chirurg. Hij wilde kijken naar medicatie om de bloedvaten open te zetten in mijn tenen. Ik leefde al enorm gezond en rookte niet. En dankzij mijn gezonde levensstijl kon ik mijn tenen behouden. Mijn gevoel gaf aan dat er ook andere oplossingen moesten bestaan dan alleen medicatie. Op dat moment ben ik me meer gaan verdiepen en kwam ik terecht bij plant based nutrition. Ik besloot meer groentes te eten en minder vaak vlees en vis. Helaas is een volledig plantaardig voedingspatroon bij de defensie enorm lastig. Je hebt namelijk niet altijd voor het kiezen wat je op je bord krijgt.
In 2017 besloot ik om deel te nemen aan fitness wedstrijden. Om te ervaren wat dit mentaal met je kan doen en ook hoe het komt dat enkele een verkeerd beeld krijgen over eten/voeding als ze zich voorbereiden voor zo'n wedstrijd. Voor acht maanden heb ik me helemaal overgegeven aan het fitness dieet. Dat houdt onder andere in veel kip, eieren en kwark. Naarmate ik steeds dichterbij de wedstrijd kwam, begon dit dieet me tegen te staan. Na de wedstrijd belande ik in een periode van een slecht zelfbeeld (niet meer afgetraind en ongelukkig). Ik at alles wat los en vast zat en er zat geen rem meer op! Er was altijd een stemmetje die me vertelde 'Mark, het moet op!!!' Dus op verjaardagen bood ik mijn excuus al aan. Want alles wat op tafel werd gezet…moest op!
Ik wilde van dit wangedrag af en door een veganistisch /plantaardig voedingspatroon aan te nemen zou je minder kans hebben op cravings. Dus ik besloot in december 2017 over te gaan naar een volledig veganistisch voedingspatroon (cold turkey!). Met een planning van drie maanden. Nadat ik dit voor twee weken had gedeeld met anderen, begon ik via social media een voorbeeld te worden. Ik kreeg allerlei vragen van mensen die ook graag deze overstap wilde maken.'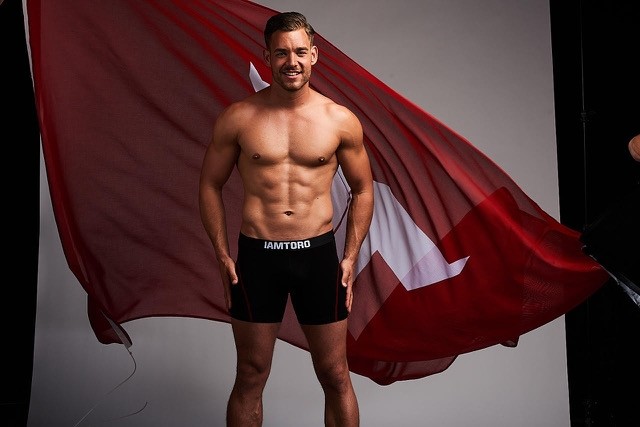 Hoe reageerde je omgeving hierop?
Mark: 'Voor mijn omgeving was ik ineens apart. Er sprongen steeds meer saboteurs op. Mensen die het raar vonden en toch vlees gingen bestellen voor je. Of dat ze zeiden: 'Ach Mark over een week eet je weer vlees.'
Maar als ik ergens voor ga is dat voor 200%! Dus spiegelde ik de saboteurs met hun gedrag. Zodra je bezig bent met een veranderingsproces, voelen andere mensen dit. Ze proberen dan vaak dit proces tegen te gaan en zeggen dingen als 'dat gaat je niet lukken, je hebt toch vlees nodig?, of 'ik zou het echt niet kunnen!
Dit geldt ook voor alle toppers die deze week zijn gestart met de Nationale Week Zonder Vlees! Onthoud dat je deze stap zet voor jezelf. Het is super dat je hieraan meedoet en de uitdaging aangaat. Er zullen altijd mensen zijn die hier iets van vinden (of het nu goed of slecht is). Spiegel hun gedrag en ga er niet op in, door vanuit emotie te reageren. Vraag jezelf af waarom mensen zo reageren. Stiekem willen veel mensen veranderen, maar durven ze dit niet en reageren ze dit bijvoorbeeld af op jou.
Mijn omgeving is gewend dat ik plantaardig/veganistisch eet. Mensen met wie ik afspreek en vleesliefhebber zijn, staan alsnog open om een veganistisch voedingspatroon uit te proberen. En je raadt het al. Ze vinden het lekker en velen verminderen hierdoor hun vleesconsumptie.
Waar liep je tegenaan tijdens je journey?
Mark: 'Meestal hoor ik het volgende van anderen: 'Ik zou echt niet kunnen leven zonder vlees, het lijkt me zoveel moeilijker om veganistisch te koken, wat moet ik dan eten?'
Ook bij mij spookte deze vragen door mijn hoofd. Maar na weken research en het onderzoeken van verpakkingen, kwam ik erachter dat veganistisch koken makkelijker is! Veganistische gerechten hebben veel meer smaak door de kruiden die je gebruikt tijdens het bereiden. Vooral ook veel meer kleur op je bord. Want onthoud: Je hersenen kijken naar kleur als het gaat om eten. M&M's zijn niet voor niks booming. Door de verschillende kleuren in een zak blijf je er maar van eten. Maar als alle M&M's rood zouden zijn dan had je na twee handjes al genoeg.
Voor welke momenten ben je dankbaar?
Mark 'Ten eerste dat ik mensen mag en kan helpen om meer plantaardig te gaan eten. Dat anderen mij vertrouwen om een coaching aan te gaan en beter in hun vel willen zitten. Ook ben ik dankbaar dat ik genomineerd was door Womens Health als foodie influencer 2018. Nog mooier ik mag deze titel dragen, hoe vet!'
Hoe blijf jij geïnspireerd?
Mark 'Ik blijf geïnspireerd door mijn kennis te delen met andere mensen. Ik ben zelfs even een tijdje stil geweest, omdat ik druk bezig was met hele andere dingen. Maar ik ben van nature een coach, een helper. En wil daarom mensen helpen. Niks moet!
Maar ik zal altijd mensen adviseren en als ik ze dan langzaam zie veranderen, dan geeft me dit een overweldigend gevoel. Of ze nu meer 'nee' willen zeggen, beter willen slapen, hun stress willen managen of meer veganistisch willen eten, ik vind het het geweldig om ze hierin te helpen.
Welke boodschap wil je uitdragen naar jezelf, anderen en de wereld?
Mark' De boodschap die ik wil uitdragen naar mezelf is dat ik op een gezonde manier heerlijk kan genieten van dit mooie leven. Dat je gemaakt bent om hard te werken, maar ook om leuke dingen te mogen doen en daar dankbaar voor te zijn. Ik mag nu zoveel leuke dingen doen na veertien jaar militaire dienst! Anderen wil ik graag het volgende meegeven: Maak een doelstelling voor jezelf. En of je dit doel nou daadwerkelijk behaalt, daar gaat het niet om. Het proces daar draait het om!
Mijn boodschap naar anderen is dat een veganistisch eetpatroon geen stoffig imago heeft. Dat vlees niet per se moet. En dat we elkaar in waarde moeten laten en stoppen met bekritiseren.
Mijn boodschap naar de wereld: Respect hebben voor elkaar. Elkaar helpen als je iemand kan helpen omdat je het al eens ervaren hebt of weet hoe je iets kan verbeteren.
Wat zijn je tips voor mensen die over willen stappen naar een veganistisch voedingspatroon?
Begin langzaam met het overstappen naar een veganistisch eetpatroon: Begin bijvoorbeeld eerst met het omzetten van je ontbijt naar een vegan ontbijt. Ben je bijvoorbeeld een kaas of ei liefhebber? Elimineer deze producten dan als laatste, want zo blijft het leuk.
Wees niet te streng voor jezelf: Vaak zie ik dat mensen heel streng zijn voor zichzelf. Maar een gezonde relatie met voeding is flexibiliteit. Eet je af en toe nog roomijs, mayonaise of heb je trek in yoghurt? Dan kan dat makkelijk, er is geen goed of fout met voeding. Hoe vaker je negatief gaat praten over voeding, hoe lastiger het wordt!
Je helpt de wereld al, als je jouw vlees, vis & zuivel consumptie met 1 à 2 dagen verminderd: Mocht het een keer niet lukken om bijvoorbeeld vlees te laten staan, voel je dan niet schuldig. De volgende keer dat je een moment krijgt om vlees te laten staan ga je er wel voor. Als coach hoor ik vaak dat mensen zeggen 'het lukt mij niet, dus ik val weer terug in mijn oude gewoontes.'
Zoek een coach die er verstand van heeft: Ik zie steeds mensen zelf proberen om over te stappen naar een vegan eetpatroon. Vaak vallen ze weer terug in oude gewoontes en geven ze op. Vaak hebben ze geen zin en tijd om research te doen. Het is niet erg om een coach te zoeken die dit allemaal kan uitleggen. Dat is voor mij de reden geweest om mensen te coachen naar deze overstap. Investeren in jezelf is het beste wat je kan doen!
Doe het voor jezelf: Jij kiest er zelf voor om over te stappen naar je nieuwe lifestyle/voedingspatroon.
Dwing andere niet: Dwing anderen niet om ook over te stappen. Maar adviseer mensen juist om het eens te proberen. Zo kom je gemoedelijker over en je zult merken dat meer mensen ervoor open staan.
Questions? Mocht je vragen hebben dan kan je me vinden op Insta @markschadenberg!
Posted By
anna van neerven