Sidney Alderlieste is 24 jaar, en sinds afgelopen december afgestudeerd voor de opleiding International Business and Management. 'Ik heb een onwijze passie voor lekker en gezond eten (het liefst eten dat ook nog eens goed is voor de dieren en onze planeet!) en duurzaamheid. Ik heb dan ook SUPER veel zin om als Junior Storemanager te starten bij SLA in September. Verder ben ik op dit moment aan het 'preppen' voor mijn eerste Bodybuild wedstrijd (bikini klasse), welke – als het goed is – eind Oktober plaats zal vinden!' - Sidney
Vanaf welk moment besloot je aandacht te besteden aan je healthy lifestyle?
Sidney: 'Toen ik 11 jaar was heeft mijn moeder me met een smoesje meegenomen naar de huisarts, om via hem een diëtiste voor mij te regelen. Ik hield zo ontzettend veel van eten (lees; ik at het liefst rijst met een gebakken eitje voor lunch, en at in de avond rustig 3 volle borden spaghetti weg) – en hield me natuurlijk totaal niet bezig met de calorieën/macros en noem maar op. Dit, in combinatie met weinig bewegen, zorgde ervoor dat ik al op jonge leeftijd een beetje 'fluffy' was (of zeg maar gerust; overgewicht had). Mijn moeder zag dat ik hierdoor niet lekker in m'n vel zat, en ik ben haar tot op de dag van vandaag dankbaar dat zij mij met een smoes naar de huisarts heeft gelokt!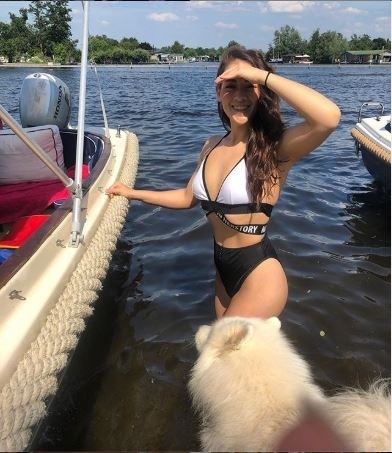 Ik kreeg een diëtiste die mij meer vertelde over een gezond/gebalanceerd dieet, en ik begon voor het eerst in mijn leven 'trainen' in de sportschool (met mijn eigen personal trainer). Destijds was dit meer 'moeten' dan 'willen', maar als ik eraan terug denk was ik echt mega gediciplineerd (al helemaal voor een 12 jarig kind). Ik miste geen enkele training, en hield mij netjes aan mijn eetschema. Al snel begon ik resultaten te zien en mij steeds beter te voelen, en dit was natuurlijk onwijs motiverend!
Hier is mijn interesse in gezonde voeding en voldoende beweging eigenlijk ontstaan. Over de jaren heen heb ik meer en meer onderzoek gedaan naar voeding, en verschillende manieren van trainen. Ik heb allerlei sporten geprobeerd – waaronder boksen en Crossfit – maar op dit moment ben ik toch het meest gepassioneerd over Fitness/Bodybuilden.
Je doet mee aan je eerste bodybuild (bikini klasse) competitie. Wat is hiervoor je motivatie?
Sidney: 'Ik (her-)ontdekte fitness toen ik een jaar of… 16/17 was. Destijds had ik eigenlijk nog geen idee wat ik aan het doen was, en trainde ik vaak mee met de jongens uit mijn locale Fitforfree. Ik heb destijds wel eens de vraag gekregen of ik mee deed aan een competitie (waarschijnlijk omdat ik er zo vaak was) – maar destijds waren Bodybuild competities voor vrouwen nog helemaal niet zo 'populair' als dat ze nu zijn. Ik ben een aantal jaar later overgestapt op Crossfit – maar toch is deze opmerking altijd blijven hangen. Toen vorig jaar een van mijn beste vriendinnen ging 'preppen' voor haar eerste bodybuild competitie begon het weer te kriebelen… en toen ik daadwerkelijk in het publiek zat om haar aan te moedigen besloot ik dat dit is wat ik wilde doen! Sparkling bikinis, hoge hakken, make up, tanning, spieren, schoonheid en elegantie… met daarachter a shit load of hard work, motivation en discipline!
Hoe cliché het ook klinkt… mijn motivatie is echt puur en alleen voor mezelf. Ik wil mezelf zowel fysiek als mentaal uitdagen, en geniet (tot nu toe) echt onwijs van het proces. Hoe fitness bij mij ooit begon als 'tool' om af te vallen, zie ik het nu echt puur als hobby en sport. Ik krijg vaak de opmerking: "Maar je ziet er toch goed uit nu?" – Ja! ik zit lekker in m'n vel, en ben blij en dankbaar voor mijn sterke en gezonde lichaam. Mijn motivatie voor de competitie is ook niet om 'af te vallen' – maar juist om spieren te bouwen! Naar mijn mening zit er een verschil in 'Fitness' en de sport 'Bodybuilden'. De een niet beter dan de ander natuurlijk, dit hangt allemaal af van iemand's doel! Wat ik eigenlijk probeer te zeggen is dat er soms nog wel een negatief stigma rond bodybuilden hangt, en dat mensen er vaak vanuit gaan dat je het doet om dat je niet tevreden bent met je lichaam. Begrijpelijk natuurlijk, omdat het fysieke aspect een groot deel uit maakt van de sport. Overigens, als je achter de schermen kijkt; zie je dat de sport zowel fysiek als mentaal is, just like any other sport!'
Wat vind je het tofste in je journey hiernaartoe? En wat vind je moeilijk/lastig?
Sidney: 'Pfoeh.. lastig. Allereerst is het natuurlijk al onwijs tof om je lichaam te zien veranderen, sterker te worden en beter te worden in bepaalde bewegingen en oefeningen. Maar ook alles eromheen; het leren poseren, het uitkiezen van een bikini, andere atleten leren kennen, deel uit maken van een super tof team (in mijn geval Team Bell Coaching).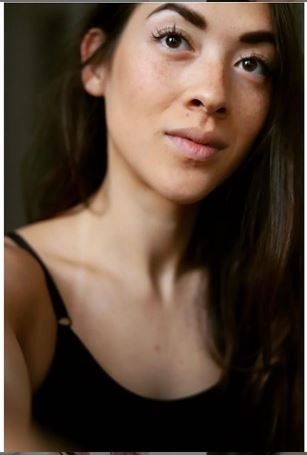 Natuurlijk geef je er ook veel voor op. Zo gaat elke hap die ik neem eerst langs mijn keukenweegschaaltje, kan ik niet lekker spontaan uiteten gaan (ik track al mijn calorieën/macros), en is op vakantie gaan ook best een ding. Daarnaast heb ik al een aantal keer sociale gelegenheden af moeten zeggen omdat ik dan bijvoorbeeld moest trainen. Ik merk dat ik nu (met nog maar een paar weken te gaan) sneller moe ben (want ik zit natuurlijk voor een langere tijd in een calorie tekort), gaat me libido omlaag, ben ik sneller geïrriteerd (hangry!!!!!) en noem maar op…
Ja- het is best een extreme sport en mensen moeten vooral niet denken dat het iets is om te doen om 'gewoon in shape' te komen. Sterker nog; ik ben van mening dat het niet gezond is om 'stage lean' te zijn, en mensen moeten zich ook realiseren dat bodybuilders na het moment op het podium ook weer op een gezonde manier aan moeten komen! Dit kan mentaal ook nog wel een dingetje zijn …. Je bent natuurlijk zo lang bezig geweest met je vetpercentage zo laag mogelijk krijgen, en dan ineens moet je weer aankomen!?
Mijn coach heeft toevallig een heel sterk artikel geschreven over het voorbereiden voor een competitie en wat zo een 'prep' precies inhoud, dus voor iedereen die geïnteresseerd is. Lees hier het artikel.
Hoe blijf je gemotiveerd & geïnspireerd om te werken aan je healthy lifestyle?
Sidney: 'Haha, nou – ik weet niet zeker of mijn lifestyle op dit moment healthy te noemen is. Zoals ik al zei, is bodybuilden best een extreme sport. Ik probeer dit wel op een zo gezond mogelijke manier te doen. Zo is mijn doel op dit moment om mee te doen aan een competitie van de bond INBA, de bond voor Natural Bodybuilding. Ook ben ik echt blessed met de wetenschappelijke kennis van mijn coach (Richard Bell) – en zijn manier van werken. Zo doe ik bijvoorbeeld aan 'flexible dieting'. Dit houd mij niet alleen mentaal 'sane', maar zo kan ik ook gevarieerd eten en zorgen dat mijn lichaam zo veel mogelijk goede/diverse voedingsstoffen binnen krijgt.
Naast dat ik gepassioneerd ben over (gezonde) voeding, en fitness/bodybuilden mijn grote hobby is, zijn het ook zeker de mensen om mij heen die mij gemotiveerd en geïnspireerd houden. Bodybuilden is een individuele sport, maar vereist een ongelofelijk support team. Gelukkig heb ik echt een fan-tas-tisch support team achter mij staan – zowel mijn familie, als vrienden, als team bell, en natuurlijk mijn geweldige vriend (kudos bub, kudos). Natuurlijk helpt dat puntje in mijn agenda met 'COMPETITIE DAG' ook mee aan mijn motivatie! Dat heeft ervoor gezorgd dat ik tot op heden nog geen een training heb gemist! haha
Het plan voor na mijn competitie is om weer aan te komen, lekker spieren te bouwen, goed en gevarieerd te eten. Ik wil er in ieder geval voor zorgen dat mijn doelen niet eindigen bij mijn competitie. Nee, ik wil zeker verder bouwen!'
Wat is je favo gerecht/recept op dit moment?
Sidney: 'Er gaat niks boven mijn zelf gemaakte Mocca Overnight Protein Oats! ik mix vaak een avond van te voren havermout, een schepje Plantforce Synergy Proteïne (in de smaak chocola), een shotje Espresso en amandelmelk door elkaar. Dit gaat dan een nachtje de koelkast in, en in de ochtend top ik het met verwarmde diepvries fruit en een beetje pindakaas. YUM.'
Jouw gouden tips voor een happy & healthy lifestyle zijn...
Sidney: 'Doe wat je leuk vind! Ik hoor zo vaak vrienden of vriendinnen die zich naar de sportschool moeten SLEPEN, omdat ze het gewoon zo ongelofelijk saai vinden. Mijn tip? Doe het lekker niet, en zoek iets waar je blij van word en waar je energie uit haalt! (dit geldt natuurlijk ook voor je werk, sociale gelegenheden, en noem maar op!). I'm all about making things your 'lifestyle' rather than yoyo-ing through life.
Daarnaast natuurlijk gezond eten… Ik weet van mezelf dat ik zoveel lekkerder in m'n vel zit als ik gezond en puur eet. Daarnaast eet ik sinds kort weer volledig vegan/plantaardig, en dit geeft mij enorm veel 'mentale' voldoening. Ik zou zeggen; wees lief voor jezelf, andere, dieren, de planeet – en doe dingen waar je hart sneller van gaat kloppen.'
Benieuwd naar haar proces? Volg Sidney via Instagram >> @sidney.alderlieste