Marine Collagen!
Popular among our customers over 30
Plent Marine Collagen: thousands of satisfied customers across Europe

Revitalize skin
Our marine collagen supplements may increase skin elasticity, hydration, and dermal collagen density.

Prevent the signs of ageing

Our marine collagen is a source of the structural protein that may help contribute to the regeneration of the skin.
Improve hair condition
Marine collagen neutralizes free radicals and therefore may help with hair growth and hair regeneration.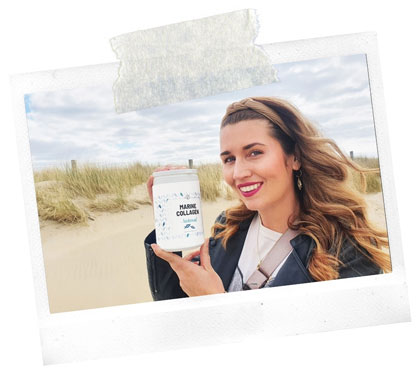 Restore your glow with our marine collagen!
Is your skin suffering from the visible signs of ageing? Our guilt-free marine collagen provides the essential collagen peptides that may help you to revitalise, rehydrate and replenish your skin. Get your glow back!
Marine collagen may contribute to:
boosting skin resilience and strength
preventing crack and wrinkle formation
thick and luscious hair
reduced inflammation
reduced joint pain
protection against cartilage damage
improved bone health
improved overall health
What our customers say about our service
What we're doing different at Plent
Here at Plent it has always been our core mission to provide clean, sustainable and highly-tested products that can provide one or more health benefits to our amazing customers. It is safe to say, we have achieved this and more with our marine collagen.
Why We're Different!
At Plent, we are driven to deliver high-quality products using only sustainable and environmentally-friendly methods.
New supplement companies are popping up every day, and unfortunately more and more are compromising on quality! We never have and never will!
This is how we make a difference
In order to be able to deliver the best quality products, we do not think it is enough just to rely on our own tests. That's why we ship several of our products to third-party laboratories to ensure both their purity and safety.
Benefits of Plent Marine Collagen
Collagen supplementation is believed to have antioxidant properties, lipid-lowering activity, connective tissue benefits, and may help to promote skin and wound healing.
When our blood vessels are injured, collagen is exposed, and attracts cells called platelets from the blood which causes blood clotting. This helps to prevent excessive bleeding when the damage occurs. In addition, collagen also plays a key role in supporting the functions of blood vessels!
Plent fish collagen also has a number of advantages over some of our competitors:
Sustainable
Easily digested
Low-molecular weight (2,000 Da)
Naturally flavoured
No fishy taste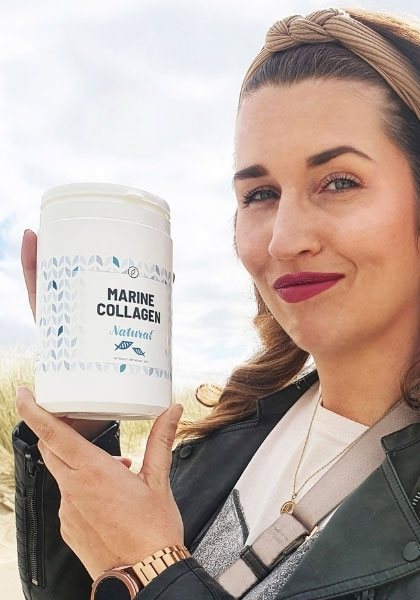 TEMPORARY OFFER: value packs!
"As we age, the natural production of collagen in the body decreases with every year! This can contribute to the wrinkling, cracks and other signs of ageing"
Take the first step!
If you buy Plent fish collagen now, you will benefit from an extra low price! The best part is that we don't use any artificial ingredients and each of the products is naturally sweetened.
How to get the best results
For best results, simply add 1 scoop of our natural marine collagen to your water, smoothie, coffee or favourite drink 1-2 times every day.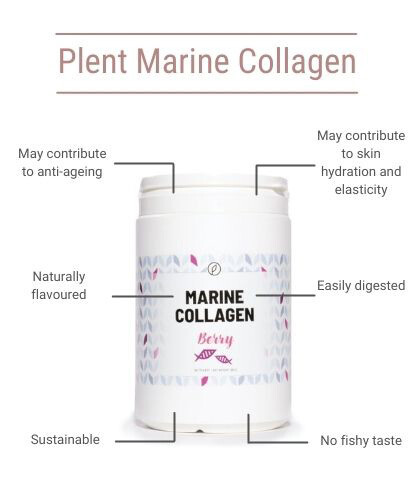 Fun facts about collagen!
We have listed the best facts for you:
Collagen is the most abundant protein in the body. There are over 20 different types of collagen in the body.
Collagen is an important part of our skin, hair, nails, cartilage, ligaments, tendons and bones.
Fish collagen is not subject to the communicable diseases that bovine or pork collagen can have.
Type I collagen, the main form found in fish, is also the most abundant type in the human body.
Plent fish collagen has a low molecular weight, which promotes the absorption of collagen in the body.
Collagen can reduce joint pain in athletes.
What our customers say about our products
Some of our happy customers ♥♥♥
Frequently Asked Questions (FAQ's)
It is known that both bovine and marine collagen promote type I collagen. Beef however also promotes type III, while marine collagen promotes levels of types I and II in the body (Sources: NCBI).
It is well known that fish species do not harbour or carry infections or diseases, that cattle and pigs can be subject to. A very important and painful example is the Foot and Mouth disease that was transmitted through tainted beef products several years ago (Source: NCBI). Collagen peptides derived from bovine sources can be subject to the feeding and grazing conditions of the cow from which it is derived, which is an important consideration.
Everybody requires collagen. We produce collagen internally in the body, and we need it for healthy bones, cartilage, tendons, ligaments, hair, nails and more.
As mentioned, marine collagen is extracted from the ground-down skin and cartilage of fish. These are the regions that are typically a by-product of the fish agriculture industry and would be otherwise discarded. To simplify it, by consuming marine collagen, you are simply putting to good use, sections of the fish that was previously disposed of as waste. It has been estimated that up to 70% of fish is discarded as waste (Source: NCBI) and only 25% used as the food product (Source: NCBI).
In terms of safety, collagen supplements fall into the category of 'nutraceuticals' which nutritional products that may have a pharmaceutical action in the body, and do not pose any risks (Source: Scielo). They are also considered nutricosmetics for their role in skincare. Collagen is in fact, regarded as safe for human consumption with a low-risk of adverse reactions.
When a protein is extracted from the food it is usually in a long, complex structure. Larger proteins need to be digested before being absorbed and available in the body. When a large protein is hydrolysed, it is 'snipped' using enzymatic processes to simply chop it into smaller fragments, so that it becomes more bioavailable and biologically active.
This depends on your specific needs and guidance from a medical professional, but usually a dose of 10-12 grams of type I has been used in several studies showing positive benefits of collagen.
TEMPORARY OFFER: value packs!