Vegan Omega 3 Plantforce
Fuel your brain, muscles and immune system!

Brain & Muscle Function
Omega 3's in algae oil help to support optimal brain and muscle function!

Control inflammation

Omega 3's in our algae oil are key components in the regulation of inflammation in the body!

Heart Function
Intake of 250 mg EPA and DHA daily contributes to normal heart function.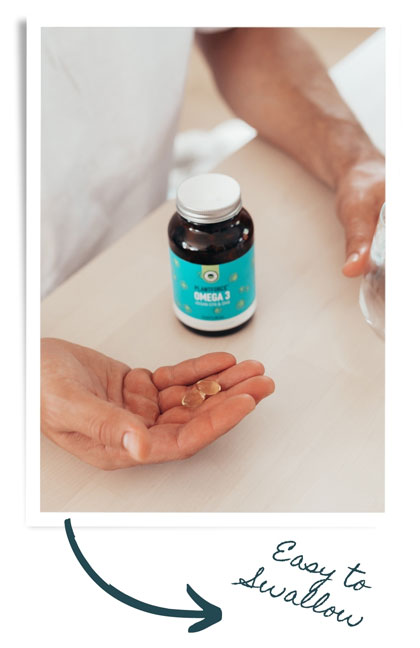 Benefits of Plantforce Vegan Omega 3
Fuel your brain, muscles and immune system with Plantforce algae oil! We have pioneered a cutting-edge system for producing clean, potent omega-3 that contains no animal products whatsoever!
Optimal ratio of DHA:EPA (3:1)
High dose (440 mg DHA and 160 mg EPA per daily dose!)
100% vegan
Environmentally-friendly
No fishy aftertaste
Highly tested
Free from chemicals, contaminants and heavy metals
Easy to swallow softgels
ENVIRONMENTALLY FRIENDLY
Our Plantforce® algae oil is cultivated indoors in a clean environment in large steel tanks using fermentation technology. This allows the omega-3 rich oil to be extracted in a manner that is not harmful to marine wildlife, or our oceans.
PURE BY NATURE
Unlike fish oil which can often accumulate harmful oceanic contaminants such as heavy metals & dioxins; our Omega-3 is sourced from pure, plant based algae oil that has been grown in a controlled & clean environment.
NO FISHY ODOUR!
Not only are you helping save our oceans, but with Plantforce® Omega 3, you can be rest assured that you're not going to have a shy aftertaste which can often be a side effect of some sh-based Omega-3 supplements!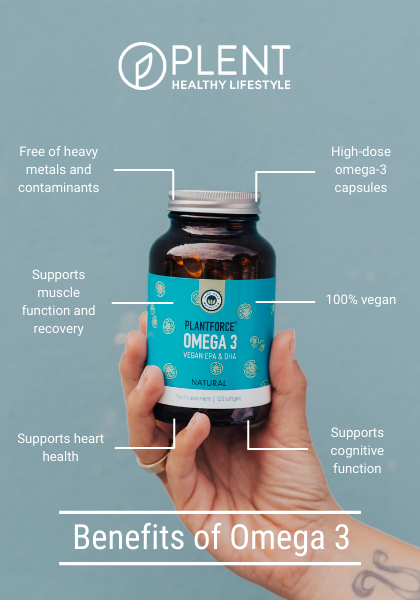 Why do we need Omega 3?
Omega-3 fatty acids are essential components for:
overall health
brain function
muscle recovery
and more...
A lot of people also know that we can source these fatty acids from nuts, seeds, legumes, fish and some dairy.
Plantbased Omega 3
What less people know is that not all omega-3's are created equal. In fact, the omega-3 found in plantbased sources is in a form that is not very active in the body. Until recently, omega-3 supplements sourced these essential fatty acids from one place, fish. Fish provide rich sources of the bioactive forms of omega-3, EPA and DHA.
Omega 3 from Algae
It was not until a few short years ago, that scientists discovered these same omega-3 fatty acids were present in equal quantities in algae! We got straight to work and have formulated one of the cleanest, potent algae oil supplements you will find on the market!
What we're doing different at Plent
Here at Plent it has always been our core mission to provide clean, sustainable and highly-tested products that can provide one or more health benefits to our amazing customers. It is safe to say, we have achieved this and more with our brand-new Algae oil from our own Plantforce brand.
Optimal Ratio of Omega 3
As we have mentioned, ALA is the omega 3 that we cannot use in the body, whereas EPA and DHA are more bioavailable
Our formula contains 1:3 ratio (EPA-DHA), whereas other companies only offer 1:2 ratio (EPA-DHA) for the same or even higher.
Highly Tested Vegan Omega 3
We run our products through rigorous testing procedures to ensure there are no metals or contaminants present. Many companies skip this crucial step!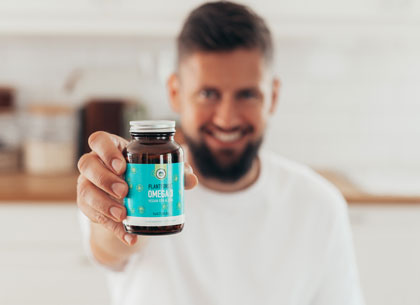 Why choose vegan Omega 3
Majority of Omega-3 supplements on the market are sourced from fish. This is not a bad thing, and we also have our own brand of fish oil. But, algae oil can be a suitable alternative for several reasons - Some things that we have accounted for at Plent.
Heavy metals and pollutants can be present in the fish species, and can be carried over into the fish oil supplements.
Fish oil industry contributes to the global issue of overfishing.
Fish oils are not suitable for those following a vegetarian and vegan lifestyle.
Fish oils may have a fishy aftertaste which prevents many people from taking them.
Fish oils often undergo strong chemical alteration to remove bad odor and lower oxidation levels to render it edible.
Affordable and higher dosage compared to competitors
Our Plantforce Vegan Omega-3 is a higher dosage and a more affordable offer.
| Brand | EPA per softgel | DHA per softgel | Price per softgel |
| --- | --- | --- | --- |
| Plantforce | 80mg | 220mg | € 0,23 |
| Testa | 125mg | 250mg | € 0,43 |
| Sunwarrior | 57mg | 250mg | € 0,57 |
| Ekopura | - | 250mg | € 0,22 |
| Orangefit | 75mg | 150mg | € 0,33 |
Scientific Benefits of Plantforce Algae Oil
Algae oil is an exceptional source of the vital long-chain fatty acids eicosapentaenoic acid (EPA) & docosahexaenoic acid (DHA). It has the benefit of being grown in controlled environments such as fermentation tanks, resulting in a high quality, environmentally friendly, sustainable oil that is free from contaminants.
Unfortunately, there are no dietary sources of EPA or DHA for vegans. Since the body cannot synthesise EPA and DHA efficiently, supplementation is the only reliable route. All our algae oil batches undergo advanced testing procedures to ensure product quality and our commitment to putting the consumer first.
Some of the approved EU health claims for omega 3 (EPA & DHA):

Combined intake of 250 mg of EPA and DHA per day contributes to the normal function of the heart.

DHA contributes to the maintenance of normal vision at 250 mg per day.

DHA contributes to maintenance of normal brain function at 250 mg per day.

DHA contributes to normal visual development of infants up to 12 months of age at 100 mg per day.

DHA contributes to normal development of the brain and eye of the fetus and breastfed infants at 200 mg a day.
Some of our happy customers ♥♥♥
Frequently Asked Questions
Yep! Algae oil is sourced completely from algae, which is an aquatic plant that grows in ponds or other freshwater bodies of water. This source of EPA & DHA is not only vegetarian and vegan, but it actually requires less processing and is, therefore, more environmentally friendly.
This depends on the specific product. Generally speaking, however, there is little differences in the fatty acid profile (EPA & DHA) of these sources, and algae is a perfectly suitable alternative for vegetarians and vegans.
Before giving recommendations about algae oil, let's look at how much of the essential omega 3's that we need a day. This will help to guide the amount of algae oil that we need, but don't worry we have the work done with our optimally-dosed algae oil.
It is recommended that we consume a minimum of 250 – 500 mg combined EPA and DHA daily through our food or supplementation (Source: EFSA). Plantforce Algae Oil provides 600 mg of combined EPA and DHA per serving, so like we said, we got you covered. Now, you might be wondering if 600 mg is too much. While there definitely is a limit to the amount of EPA/DHA you want to consume daily, but 600 mg doesn't come close.
In fact, the American Heart Association recommend that those with heart disease consume 1,000 mg EPA/DHA a day, and those with high tryglycerides consume 2,000 mg, intakes which are believed to raise no safety concerns (Source: EFSA).
Docosahexaenoic acid (DHA) and eicosapentaenoic acid are long-chain, unsaturated and essential omega-3 fatty acids that play crucial roles in regulating inflammation, brain health and function, cell health, pregnancy, muscle function, immune support and more. They are rich in fish, shellfish and some algaes.
In the body, we convert ALA to EPA and then EPA to DHA. So, technically, we can produce it in the body. But, this conversion process is reliant on an enzyme that is highly-competed for, which makes it very inefficient. It is best not to rely on the ALA -> EPA -> DHA process for your omega-3.
Let's clear this up. There are plenty of plantbased sources of alpha-linolenic acid (ALA), which can be converted to EPA, and then to DHA. However, this process is inefficient and even high intakes of ALA through seeds, nuts, legumes and grains will likely not provide enough EPA/DHA.
Algae oil is the only plantbased source of the bioactive EPA/DHA, which is one reason we have formulated a high-potency product.
Linseed and many other vegetable oils provide ALA. As mentioned above, while this is an omega-3, it will need to be converted in the body through a highly inefficient process. It is best to aim for omega-3 intake as primarily EPA and DHA.
You can simply click the link on any source we have cited throughout the text, or go to some of the links provided. We recommend these because they are completely independent, not linked to any supplement companies or brands and they break down the research into layman, easy-to-understand terms.