Vegan Journey van Larisa Versluis | Oerwoud & Plant
13/03/2019 20:06
Larisa, mede oprichter en eigenaresse van healthy/jungle hotspot Oerwoud en oprichter van het nieuw te openen PLANT.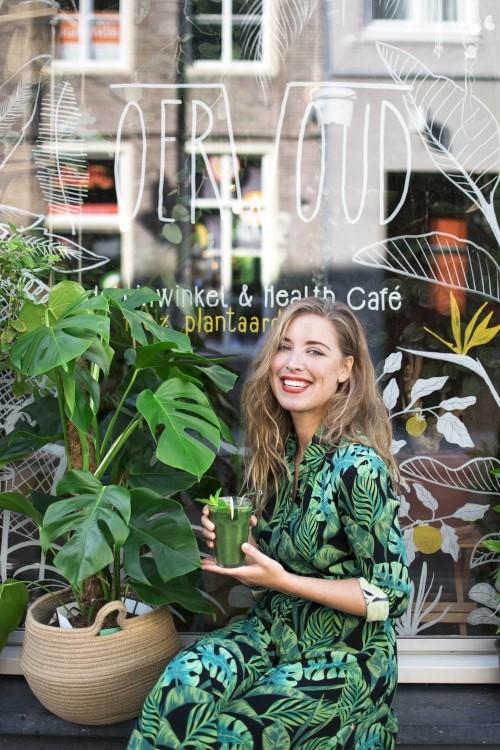 Een plant based paradise in het centrum van Den Bosch. Bij PLANT is alles organic, fairtrade en plant-based geproduceerd.
Als ze niet bij Oerwoud is dan is Larisa buiten in de natuur, op pad of in haar eigen planten jungle thuis (inmiddels heeft ze thuis ook meer dan 80 planten!).
'Je kan wel zeggen dat ik een echt plantenvrouwtje geworden ben. Zo met alles wat ik doe is inmiddels geïnspireerd geraakt door het gegeven dat planten ons ademen, voeden en kunnen helen. Planten zijn alles. Met Oerwoud en Plant wil ik ze weer in de hoofdrol zetten en laten ervaren hoe fijn en makkelijk een (conscious) plant-based lifestyle is!'
Vanaf welk moment besloot je om te kiezen voor een veganistisch voedingspatroon?
Larisa: 'Tijdens de studie Food design & innovation aan het HAS Den Bosch begon ik me meer te verdiepen in de herkomst van ons dagelijks eten. Na allerlei ontdekkingen besloot ik voor dierenwelzijn, het milieu en mijn gezondheid te minderen met het eten van vlees en vis. Doordat ik steeds meer energie kreeg en gewoonweg niet meer om de waarheid heen kon besloot ik helemaal over te stappen naar een veganistisch voedingspatroon. Inmiddels eet ik ruim 3 jaar volledig plant-based/vegan.'
Hoe reageerde jouw omgeving hierop?
Larisa: 'Super positief. Meeste mensen zijn heel erg geïnteresseerd en stellen vragen als hoe voel je, je nu en wat eet je dan allemaal wel? Nou dan ben je bij mij aan het goede adres, want ik ben dol op koken. Dankzij plantaardig te eten, eet ik nu zoveel lekkerder + voel ik me zoveel beter! Dit deel ik in mijn enthousiasme graag met andere mensen.'
Waar liep je tegenaan tijdens je journey?
Larisa: 'Volledig vegan eten ging mij gelijk al goed af omdat ik in dezelfde periode Oerwoud ben gestart. Waar ik wel nog moeite mee had was het aannemen van een volledig plant based en vegan lifestyle. Zo begon ik steeds meer na te denken over alle andere producten die ik dagelijks gebruik en draag. Is die ene tas eigenlijk wel vegan en fair geproduceerd en hoe zit het met de crème die ik elke dag op mijn gezicht smeer? Waar is het van gemaakt? Toen ik er achter kwam dat alleen al een varken gebruikt wordt voor honderden verschillende producten wist ik dat het een heel onderzoek zou worden, maar no way dat ik er nog bewust voor zou kiezen om iets te gebruiken of te dragen waar een dier aan te pas is gekomen.
En zo ben ik onderzoek gaan doen naar de herkomst van producten en opzoek gegaan naar een plant-based vegan alternatief dat ook nog eens organic en fairtrade is. Dat was niet altijd even makkelijk en als ik het met mijn omgeving er over had merkte ik dat het voor hun ook elke keer weer een zoektocht was. Dit was voor mij één van de belangrijke redenen om PLANT op te zetten. Bij PLANT vind je straks de basic essentials voor een vegan & plant-based lifestyle. Je hoeft je hier geen zorgen te maken over de herkomst van de producten. Bij PLANT is alles biologisch, fairtrade en plantaardig geproduceerd en weet je zeker dat je de deur uitloopt met een goed gevoel!
Zo kan je hier straks in een groene omgeving eten en drinken, shoppen maar ook meedoen aan bijvoorbeeld een yoga- meditatie- & ademhalingssessies tussen de planten. Een grote droom zou zijn om PLANT uiteindelijk door te laten groeien tot een plant-based & vegan warenhuis met daarboven een planthotel :)
Voor welke momenten ben je dankbaar?
Larisa: 'Ik vooral erg dankbaar voor alle mooie en inspirerende mensen die ik heb mogen ontmoeten, waarvan ik geleerd heb, van heb mogen genieten en mee heb mogen samenwerken. 'Samen' is zo belangrijk en zo ontzettend krachtig.
Hoe blijf je geïnspireerd?
Larisa: 'Het helpt mij heel erg om volledig te ontspannen en de natuur in te gaan of bijvoorbeeld te mediteren met planten en kristallen. Wanneer ik ontspan kom ik dichterbij mijzelf en is het voor mij altijd weer heel duidelijk wat echt belangrijk is. Hierdoor ontstaat er voor mij meer ruimte voor het creatieve proces. Ook vind ik het erg inspirerend om mensen op te zoeken met een soortgelijke mindset en samen te werken. Het is mooi te ontdekken wanneer andere mensen in hun kracht staan en wat ze bezighoudt.'
Welke boodschap wil je uitdragen naar jezelf, anderen en de wereld?
Larisa: 'Heb geduld, wees lief voor jezelf en voor anderen en vertrouw op het proces.'
Wat zijn je tips voor mensen die over willen
stappen naar een veganistisch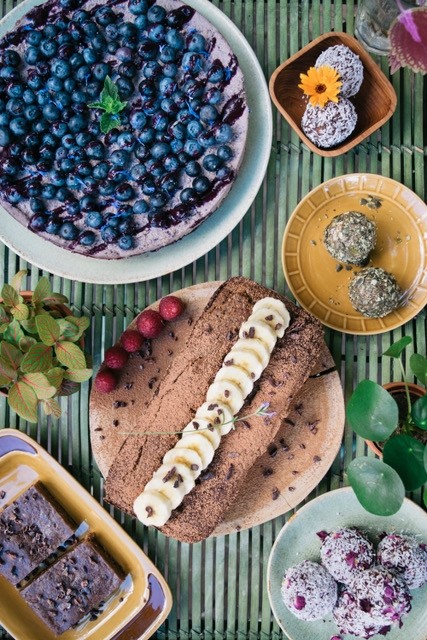 voedingspatroon?
Larisa: 'Ga op culinair avontuur en probeer allerlei lekkere recepten uit. Als je eenmaal ontdekt wat je allemaal wel kan eten en hoe lekker de plantaardige keuken is, zal dit je alleen nog maar meer inspireren. Verder is mijn tip: blijf vooral bij jezelf en kies voor datgene wat goed voor jou voelt. Stapje voor stapje is ook prima. Het is al super goed als je al bewust bent en je best doet. High five!'
Benieuwd naar Larisa? Je kan haar volgen via haar instagram account @larisa.versluis.
Posted By
anna van neerven