Vega Journey van Roy Berkenhamer
15/03/2019 16:01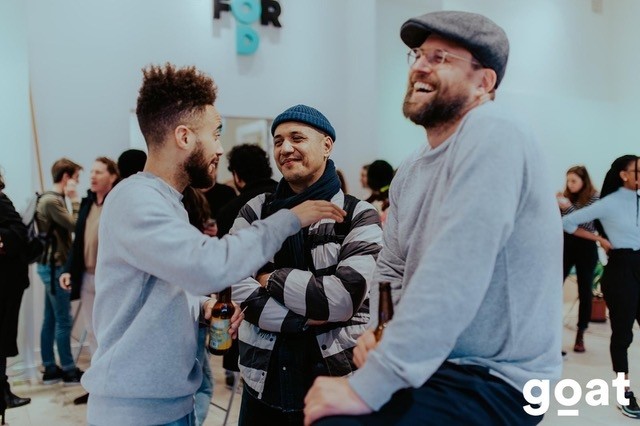 Een man naar ons hart dat is Roy Berkenhamer. Ongeveer 4,5 jaar geleden is een vega lifestyle bij hem binnengeslopen. Mede dankzij zijn vriendin Isabella (co-founder Go With the Glow met haar zusje Loulou), is hij zich meer gaan verdiepen in een vegan lifestyle. Lees hier het verhaal over zijn journey naar een bewuste en plantaardige leefstijl!
Vanaf welk moment besloot je om te kiezen voor een vegetarisch voedingspatroon?
Roy: ' Ik denk dat dit nu ongeveer 4,5 jaar geleden er in is geslopen. Uiteraard door mijn vriendin (Isabella Machiné van Go With The Glow) die daarvoor al een paar jaar een brainwash was begonnen. Ik ben mij gaan informeren en zag verschrikkelijke dingen die gebeuren om een paar minuten genieten teweeg brengt... Vlees was er met de paplepel ingegooid net als melk want dat was zogenaamd gezond. Als je je wat meer verdiept in alles is het de meest logische stap om plantaardig te gaan leven. Dieren, milieu en de toekomst van onze zoon Luca.'
Hoe reageerde je omgeving hierop?
Roy: 'Als man is dit een iets ander proces denk ik, al mijn vrienden zijn carnivoren. In het begin was ik die heftige activist tot vervelends toe, elke bbq, etentje, lunch was een discussie over voeding en hoe slecht het is. Pittige discussies, ben vaak voor gek verklaard. Maar mijn brainwash werkte wel, dat de grootste vleesetende vrienden een foto van hun boodschappenmandje stuurde waar dan vegetarische balletjes inlagen. Dat zijn mooie momenten! Tegenwoordig krijg ik DM's van onbekenden die wegens een post van mij zijn veranderd. Dus tegenwoordig probeer ik het op de lieve/informatieve manier met soms even een intense wake up call.'
Waar liep je tegenaan tijdens je journey?
Roy: 'Mijn vriendin is al eet al een tijdje vegan en dat maakt het proces wel makkelijker. Het proces van minder naar helemaal geen vlees ging vrij vlot. Je kan zo lekker eten zonder dierlijke producten en er gaat een nieuwe wereld open voor je dan.'
Voor welke momenten ben je dankbaar?
Roy: 'De berichten die ik soms ontvang, maar ook alle discussies die ik tijdens mijn werk in het nachtleven voer. Mensen zijn veel bewuster aan het worden en willen echt veranderen. De meest heftige discussies eindigen altijd in "maar ik ben al veel minder vlees aan het eten." Het is vaak het woord "vegan" waar veel mensen over struikelen denk ik, die geitenwollen types toch ;).'
Hoe blijf je geïnspireerd?
Roy: 'Internet doet mij vaak ook goed ik volg veel vegan accounts, goeie tips, lekkere gerechten. En natuurlijk mijn schoonzus en vriendin die vegan brunches organiseren o.a. waar veel informatie wordt gedeeld en je ook ziet dat er een divers publiek op af komt. Check hiervoor de website van Go With the Glow. Maar de hele movement gaat als een trein!'
Welke boodschap wil je uitdragen naar jezelf, anderen en de wereld?
Roy: 'Wees wat bewuster op deze planeet met wat je eet, hoe je consumeert, hoe je met afval omgaat, vervoer....alle kleine beetjes helpen echt. Sinds ik papa ben kijk ik daar nog meer naar. De mensheid is slim genoeg om dit te doen veranderen.'
Wat zijn je tips voor mensen die over willen stappen naar een vegetarisch voedingspatroon?
Roy: 'Probeer met 2/3 dagen per week te minderen met vlees, een hele dag. Online zijn zoveel gerechten en ideeën te vinden hoe je i.p.v. een biefstuk iets compleets anders kunt eten. Plantaardig eten doet je lichaam zoveel goed, want vlees/zuivel etc zit zoveel troep in en je bespaart veel dierenleed door dit te stoppen. De toekomst ziet er groen uit!'
Posted By
anna van neerven