stappenplan voor de perfecte groene smoothie
26/11/2018 16:47
Een groene smoothie is niet alleen gezond maar ook nog eens een gemak om te maken. In slechts 5 stappen maak jij de heerlijkste groene smoothies!
Stap 1 | Kies de basis vloeistof voor je groene smoothie
(Gefilterd) water: water is goedkoop en gezond. En het tast de smaak van het verse fruit in je smoothie niet aan
Kokoswater: bevat belangrijke voedinstoffen waaronder electrolythen, kalium, magnesium en vitamine C. Niet alleen een heel lekker drankje maar ook gezond! .
Plantaardige melk: groene smoothies zijn perfect voor tijdens je detox. Voor een volle romige smoothie kies je voor plantaardige melk. Denk aan amandel-, haver- of rijstmelk.
Stap 2 | Kies je favoriete seizoensfruit
Kies bij het maken van je smoothie voor fruit uit het seizoen. Niet alleen goed voor de aarde maar ook gezond voor jou! Benieuwd welke fruitsoorten er allemaal te vinden zijn in het seizoen? Bekijk hier de groente & fruitkalender van Milieu Centraal.
Fruitsoorten voor een dikkere romige smoothie: banaan, mango, perzik, peer, appel, papaja of kiwi. Je smoothie wordt ook zoeter als je banaan toevoegt.
Gezonde vetten: voeg avocado of kokosnoot toe aan je smoothie voor een echte maaltijdvervanger. Je smoothie bevat dan ook extra calorieën en gezonde vetten.
Door groente toe te voegen in stap vier wordt je smoothie ook dikker, dus hoe meer groente je toevoegt, hoe minder 'basis fruit' je nodig hebt.
Stap 3 | Voeg kruiden en specerijen toe (optioneel)
Je kan kiezen voor verse kruiden als basilicum, koriander of peterselie. Of specerijen als kardemom, kaneel, kurkuma of zelfs cayennepeper geven net iets extra's aan jouw smoothie.
Stap 4 | Kies je groente
Ook hiervoor geldt: kies groentes ut het zoeken. Bekijk hier de groente & fruitkalender van Milieu Centraal, zodat je weet welke groenten je het beste kan kiezen.
Onze groene favorieten: spinazie, romaine sla, rucola, boerenkool, andijvie en bleekselderij.
Verhouding: idealiter bestaat een groene smoothie uit 40% groente en 60% fruit. Je kunt beginnen met een lager percentage groente en dit steeds meer opbouwen.
Variatie is key: je lichaam heeft een variëteit aan groente nodig, maak dus niet altijd dezelfde groene smoothie maar blijf variëren zowel qua groente als fruit.
BONUS | Extra toevoegingen (optioneel)
Superfoods: goji bessen, hennepzaad, chia zaad, cacao nibs, maca poeder… vrijwel alle superfoods zijn zeer geschikt voor groene smoothies. Creativiteit geen bezwaar!
Proteïnepoeders: kies voor plantaardige proteïnepoeder bijvoorbeeld de poeders van Third Wave Nutrition.
Ongebrande en ongezoute noten en zaden: bijvoorbeeld amandelen, cashewnoten, zonnebloempitten, pompoenpitten, chiazaad.
Stap 5 | Blend it
Doe alle ingrediënten in je blender en mixen maar!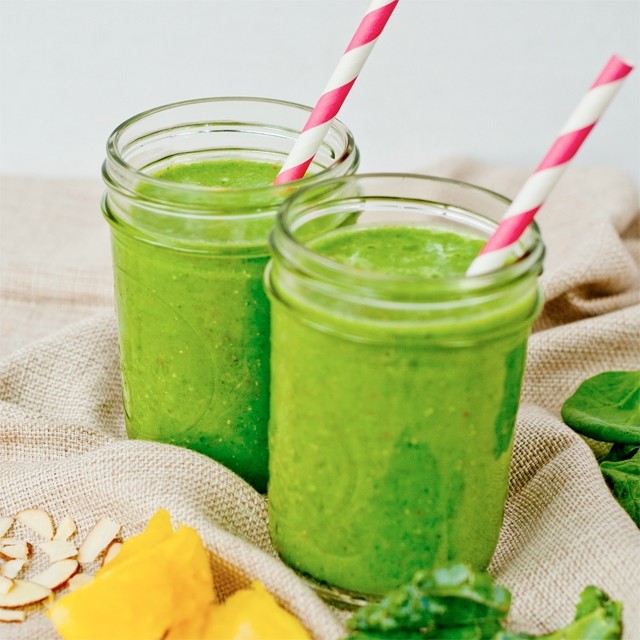 Posted By
Bas Hoeve