Een healthy lifestyle volgens Dalí | Zonderzooi
02/02/2019 16:33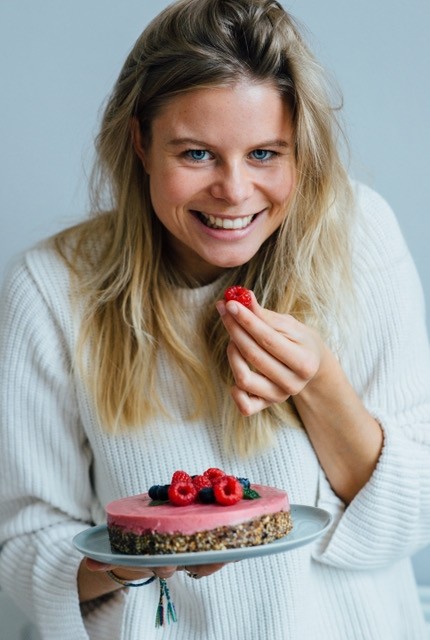 Dalí is oprichtster van blog Zonderzooi. Met haar blog wil ze mensen inspireren om wat minder 'zooi' te eten'. 'Hoe natuurlijker je eet, hoe beter voor je lichaam'. Verder werkt ze als foodcoach waarbij ze mensen begeleid met afvallen en weer lekker in hun vel zitten.
Benieuwd hoe zij denkt over een healthy lifestyle? Lees hier ons interview met Dalí!
Een healthy lifestyle volgens Dalí
Dalí: "Balans! Dat vind ik heel erg belangrijk en geef ik ook graag aan iedereen mee. Lekker yoga doen en gezond eten is heerlijk, maar af en toe een ijsje of een stuk taart moet ook gewoon kunnen. Juist door een gebalanceerd voedingspatroon te hebben kan je het je leven lang volhouden. Daarnaast vind ik rust nemen voor jezelf ook heel belangrijk. Dit doe ik zelf met yoga en meditatie, maar kan je bijvoorbeeld ook doen door eens een lekker bad te nemen."
Wat eet jij zoal op een dag?
Dalí: "Er gaat bij mij geen dag voorbij zonder havermoutpap. Dat is echt mijn grootste verslaving en eet ik elke ochtend met veel plezier. Vooral met appel, kaneel en pindakaas vind ik heerlijk nu in de winter. Soms wissel ik dat af met smoothies, zo maakte ik laatst een lekkere smoothie met Plantforce Vanille eiwitpoeder. Verder eet ik graag brood, wraps of een salade als lunch. Mijn diner is heel gevarieerd, de ene keer een Thaise curry en dan weer een lekkere pasta. Daarnaast eet ik elke dag wat gezonde snacks, zoals bananen of rijstwafels met pindakaas. Ook zelfgemaakte bliss balls vind ik heerlijk!"
Wat is op dit moment jouw favoriete gerecht?
Dalí: "In de winter eet ik graag curry's. Ze zijn lekker vullend en echt een feestje om te eten. Mijn favoriete curry is de curry met zoete aardappel en pindakaas, die kan je hier vinden op mijn blog."
Waar haal jij jouw inspiratie vandaan?
Dalí: "Ik heb altijd miljoen ideeën voor nieuwe recepten. De laatste tijd kijk ik veel op Pinterest voor inspiratie, maar als ik op reis geweest ben kan ik daar ook veel inspiratie uit halen. Zo kwam ik na mijn reis door Sri Lanka gelijk met een heerlijke dhal curry. Ook luister ik goed naar wat de mensen die ik coach willen. Ik merk dat veel mensen het liefst iets gezonds op tafel zetten, maar het moet wel weinig tijd kosten. Daar let ik dan op tijdens het maken van mijn recepten."
De gouden tips voor een healthy lifestyle volgens jou?
Dalí: "Luister naar je lichaam en eet wanneer je honger hebt. Ga jezelf vooral niet zitten uithongeren om gezond te zijn, dat is helemaal niet nodig. Verder vind ik een gezonde balans heel belangrijk. Eet je op de doordeweekse dagen lekker gezond? Dan kan je in het weekend best een paar treats hebben."


Wat zijn je ambities?
Dalí: "Ik zou het heel tof vinden om meer te kunnen reizen met Zonderzooi. Bijvoorbeeld rondreizen en ondertussen nog een beetje werken, zoiets. Ook is het mijn droom om later in een warm land te wonen en vanaf daar te bloggen en mensen te coachen. Leuk hoor Nederland, maar die winter duurt mij altijd iets te lang haha!"


Wat wil je ons graag meegeven?
Dalí: "Ik heb de Plantforce shakes geprobeerd en ben echt super tevreden. Ik eet zelf vegetarisch en ook grotendeels vegan, waarbij het echt belangrijk is om voldoende eiwitten binnen te krijgen. Daar let ik niet altijd op en daarom zijn deze shakes ideaal. Ik heb in het verleden verschillende vegan shakes getest, maar vond ze vaak heel vies smaken. Deze shakes van Plantforcezijn gewoon super lekker, zonder dat ze zooi bevatten."
Benieuwd naar Dalí haar healthy lifestyle? Volg haar via Instagram @zonderzooi.
Posted By
anna van neerven