Een healthy lifestyle volgens Lotta
08/02/2019 14:00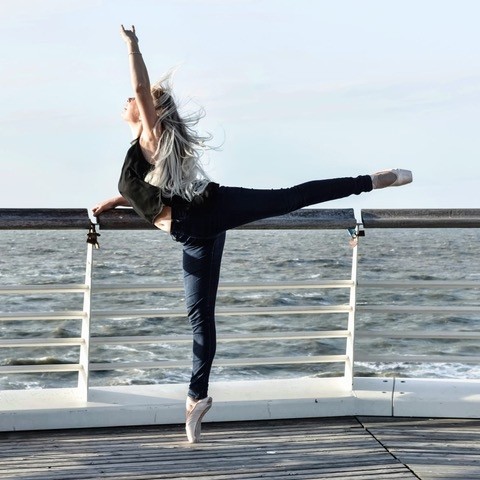 Lotta Elisabeth is adult ballerina, model, content creator en motivational speaker. Ze is een echte duizendpoot. Maar haar bezigheden hebben één gemeenschappelijke deler: "Ik wil mensen motiveren om zichzelf op de eerste plaats te zetten en van daaruit hun dromen waar te maken. We hebben maar één leven, dus je kan er maar beter jóúw feestje van maken! - Start living the life you've imagined -"
Een healthy lifestyle volgens Lotta
Lotta: "Een healthy lifestyle betekent voor mij dat ik balans heb in mijn leven en me energiek voel. Sporten is hierbij onmisbaar voor mij. Voorheen ging ik helemaal op in kunstschaatsen en sinds een paar jaar is dit ballet geworden. Ik vind het heerlijk om met mijn lijf te werken en te ontdekken waar mijn lichaam toe in staat is!"
Wat eet jij zoal op een dag?
Lotta: "Ik start de dag altijd met een latte met havermelk, daarna eet ik meestal een lekker warm havermoutje met blauwe bessen. Als ik veel train, roer ik hier plantaardige proteïne doorheen. Later op de dag eet ik vaak een salade met peulvruchten en 's avonds een lekker warm, voedend vegan gerecht. Ik kan niet zo goed tegen soja, dus plantaardige proteïne zijn voor mij echt een uitkomst om toch voldoende eiwitten binnen te krijgen!"
Wat is op dit moment jouw favoriete gerecht?
Lotta: "Lastig! Ik zit net weer in een fase dat ik veel nieuwe gerechten aan het uitproberen ben. In de koude wintermaanden vind ik een warme, spicy chickpea-pumpkin curry misschien wel het allerlekkerste!"
Waar haal jij jouw inspiratie vandaan?
Lotta: "Voor dans: Van instagram. Op Instagram volg ik veel professionele en amateurdansers, hun beelden zien, motiveert me enorm om hard te trainen. Ik wil heel graag bepaalde choreografieën en variaties kunnen dansen en beter worden op spitzen."
"Voor voeding en gezondheid: Overal en nergens! Met nieuwe recepten heb ik vaak dat ik iets op een menukaart heb gezien of ergens heb gegeten en dan wil ik het zelf opnieuw maken, of ik praat met andere mensen over gezondheid en raak dan nóg meer gemotiveerd om echt goed voor mijzelf te zorgen en mijn gezondheid serieus te nemen."
Lotta's gouden tips voor een happy, healthy lifestyle
"Denk niet in restricties, maar in wat je leuk/lekker vindt. Ballet vind ik zó ontzettend leuk, dat het mij geen moeite kost om hard te trainen. En er zijn zóveel heerlijke, gezonde, vegan gerechten te vinden, waarom zou je dan enkel kauwen op een slablaadje? Maak er een feestje van voor jezelf, maar dan wél met healthy food!"
Wat zijn je ambities?
Lotta: "Ik wil wereldwijd andere vrouwen, met name dansers, inspireren om lief voor zichzelf te zijn en goed voor zichzelf te zorgen. Ik ben momenteel achter de schermen hard bezig met het creëren van content en het ontwikkelen van e-books en online programma's om dit waar te maken. Later dit jaar gaan jullie hier véél over horen!"
Wat wil je ons graag meegeven?
Lotta: "Spread the word! Ik vind jullie proteïne poeders niet alleen heel lekker, maar ook van hele goede kwaliteit. The future is vegan!"
Benieuwd naar Lotta's healthy journey through life? Volg haar via Instagram: @lotta.elisabeth.
Posted By
anna van neerven