wat is CGF (chlorella Groei Factor)
18/06/2019 11:57
Wat is Chlorella Growth Factor (CGF)?
Heb je ooit gehoord van C.G.F. of Chlorella-groeifactor? Het is een verbazingwekkend voedingsstofcomplex, een uitzonderlijke stof die wordt verkregen door afscheiding en extractie van cellen van chlorella pyrenoïdosa. CGF wordt door veel onderzoekers erkend als een nuttige bijdrage aan de gezondheid van alle generaties
CGF: wat is het?
CGF is een uniek complex dat wordt aangetroffen in de celkern van chlorella.
Alleen chlorella heeft zo'n groeifactor. Het wordt niet gevonden in spirulina of in een andere microalgen.
Onderzoekers hebben ontdekt dat CGF wordt geproduceerd tijdens intense fotosynthese, waardoor chlorella zo snel kan groeien. Elke cel vermenigvuldigt zich om de 20 uur in twee nieuwe cellen en de CGF bevordert deze snelle reproductie.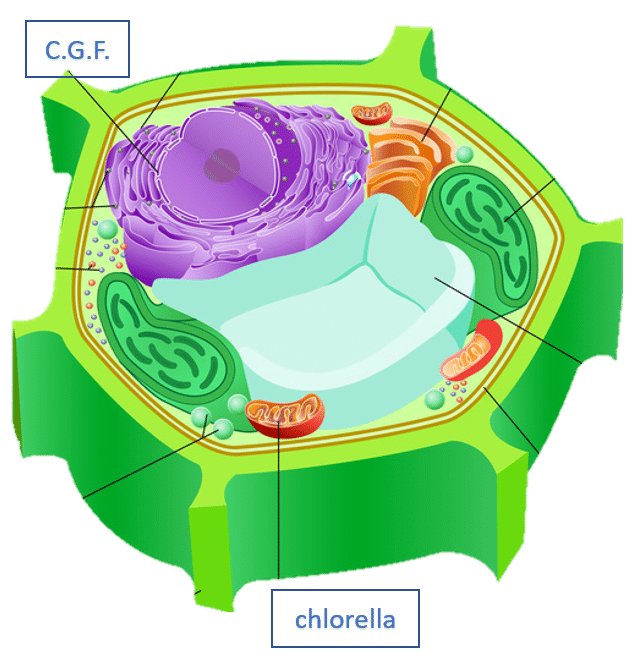 Experimenten tonen aan dat CGF een snellere groei bevordert zonder ongewenste bijwerkingen en de RNA / DNA-functies verbetert die verantwoordelijk zijn voor de productie van eiwitten, enzymen en energie op celniveau, weefselreparatie stimuleert en cellen beschermt tegen bepaalde toxische stoffen.
Naarmate mensen ouder worden, vertragen cellulaire processen. De celwand, die de toevoer van voedingsstoffen en afvaluitstoting reguleert, wordt minder functioneel. Dit leidt tot een toenemende zuurgraad van het lichaam die veel chronische en degeneratieve ziekten bevordert.
Een voldoende aanbod van voedsel dat rijk is aan DNA en RNA helpt onze eigen cellulaire nucleïnezuren te beschermen. En wanneer ons RNA en DNA in goede conditie zijn, kunnen onze lichamen efficiënter gebruik maken van voedingsstoffen, ontdoen van gifstoffen en ziekten voorkomen. Cellen kunnen zichzelf herstellen en het energieniveau en de vitaliteit van het hele lichaam is hoog.
In Japan vond professor Michinori Kimura niveaus van 10% RNA en 3% DNA in chlorella, waardoor het de voedingsstof zou zijn die het rijk is aan nucleïnezuren. Regelmatig gebruikt, zou CGF helpen beschadigd genetisch materiaal in menselijke cellen te herstellen, daardoor de gezondheid te beschermen en het verouderingsproces te vertragen.
Indicaties
CGF is een opmerkelijk voedingssupplement, waarvan bekend is dat het de groei bevordert, het immuunsysteem stimuleert en de genezing versnelt.
Bevordert de snelle groei, versterkt het immuunsysteem en bevordert een snelle genezing van het weefsel.

Stimuleert het immuunsysteem: CGF stimuleert de productie van interferon en beschermt T- en B-lymfocyten, de frontlinie van het lichaam tegen infecties. Verhoogde weerstand tegen ziekte

Zuiverende, antivirale en ontstekingsremmende eigenschappen - dankzij de hoge concentraties chlorofyl in het CGF

Ontgift. Glutathion, aanwezig in CGF, heeft het vermogen zich te binden aan zware metalen, oplosmiddelen en pesticiden en deze om te zetten in een vorm die kan worden uitgescheiden in urine of gal. Het is ook een krachtige antioxidant die helpt bij het bestrijden van schadelijke vrije radicalen in het lichaam en helpt bij ontgifting. Glutathion helpt om toxines uit de lever te verwijderen.

Prebiotische functie - CGF stimuleert de groei van goede bacteriën en ondersteunt het spijsverteringsstelsel. Het reguleert de darmflora.

Gunstig in de preventie van allergische ziekten en voorkomt caseïne-allergie, een belangrijke oorzaak van melkallergie.

Weerstand en uithoudingsvermogen: echt energieconcentraat, zeer nuttig voor atleten

Weefselreparatie - door hun groei- en levensduuractiverende eigenschappen stimuleren CGF-nucleïnezuren weefselregeneratie en herstel van beschadigd weefsel zonder ongecontroleerde celproliferatie in de vorm van kwaadaardige tumoren te veroorzaken ...

Helpt bij het bestrijden van hoge bloeddruk en hart- en vaatziekten.
CGF wordt aanbevolen voor
Tieners in volle groei

Senioren die vitaliteit en energie willen terugkrijgen

Patiënten om hun behandeling beter te ondersteunen

Patiënten die snel herstel na zware en pijnlijke procedures of behandelingen zoeken (chemotherapie, radiotherapie, chirurgie, enz.)
Posted By
Kirsten