Een healthy lifestyle volgens Romana Switzer | Orthomoleculair Health & lifestylcoach
22/03/2019 17:22
Romana Switzer is Orthomoleculair Health & lifestylcoach, moeder van Lilly en Milou (10 en 8), samenwonend in Oegstgeest met Wouter en zijn 3 kinderen.
Romana: 'Nadat ik zelf 40 kg afviel en dit met veel vallen, opstaan en weer doorgaan, er af heb weten te houden, ontstond een enorme passie voor voeding en een healthy lifestyle. Vanuit het gevoel; als ik het kan, kan jij het ook. Ik weet echt hoe het is om veel te zwaar te zijn. 100 kg bij 1.60 m is behoorlijk fors. Ik weet inmiddels ook hoe het is om slank te worden en te blijven. Die ervaring, die kennis wil ik heel graag delen. Ik gun elke vrouw het lichaam wat bij haar past. Dat hoeft zeker niet voor iedereen maatje 36 te zijn, maar een lijf waarbij je je comfortabel, fit en sexy voelt. Maar waarbij ook aandacht is voor je gezondheid. Je kunt je heerlijk voelen bij 100 kg, maar we willen ook dat je je in de toekomst nog steeds goed en fit voelt. We streven naar optimale gezondheid. Inmiddels werk ik 3 jaar als Orthomoleculair Health & lifestylcoach en heb ik al vele ambitieuze vrouwen mogen begeleiden. Vanuit de Orthomoleculaire Geneeskunde willen we jouw gezondheid optimaliseren door een goede balans tussen vitamines, mineralen, vetzuren en andere belangrijke voedingsstoffen. Het gaat dus veel verder dan afvallen alleen. Het gaat over klachten verminderen of zelfs laten verdwijnen en dat is zo ontzettend waardevol.'
Wat betekent een healthy lifestyle voor jou?
Romana: 'Gezond genieten van het leven! Mijn liefde voor lekker eten, vertaalde zich vrij letterlijk toen ik als een blok viel voor de leukste horecaondernemer uit Leiden. Borrels, etentjes, feestjes, wijnproeverijen en nog meer etentjes zijn maandelijkse kost. De kunst tussen genieten en ook nee kunnen zeggen, is balans. Balans is key. Ik kan me heel makkelijk aan mijn voedingspatroon houden, omdat ik me er goed door voel, slank en fit bij blijf. Omdat er ruimte is om daar af en toe vanaf te wijken, zonder dat dit gelijk grote consequenties heeft voor mijn lijf en hoe ik me voel. Daarnaast is het willen lopen van de New York Marathon in november van dit jaar ook een geweldige stok achter de deur ;)'
Wat eet jij zoal op een dag?
Romana: 'Ik voel me het meest optimaal wanneer ik een lowcarb lifestyle (ketogeen) volg (gouden) combinatie met intermittent fasting. Ik heb een aantal jaar flexi-vegan geleefd, maar voor mij was dat niet het meest optimaal. Hierbij voel ik me veel beter, fitter en een stuk slanker.
Ik breek mijn vast rond 12 uur met een vers glas bleekselderijsap en na een half uur een schaaltje Griekse yoghurt met zaden, pitten, kokosrasp en een handje frambozen en bessen. Of ik bak een lekker omelet met groente of ik maak een maaltijdsalade met een flinke scheut goede olijfolie er over. Ik zorg er in ieder geval voor dat ik een flinke maaltijd eet, waardoor ik tot aan het diner verzadigd ben. Tussendoor drink ik koffie en minimaal een liter verse gemberthee. 's Avonds maak ik graag een mix tussen bloemkool- en brocollirijst, kippendijfilet, extra groente en verse kruiden. Een soort curry waar ook de kinderen dol op zijn.'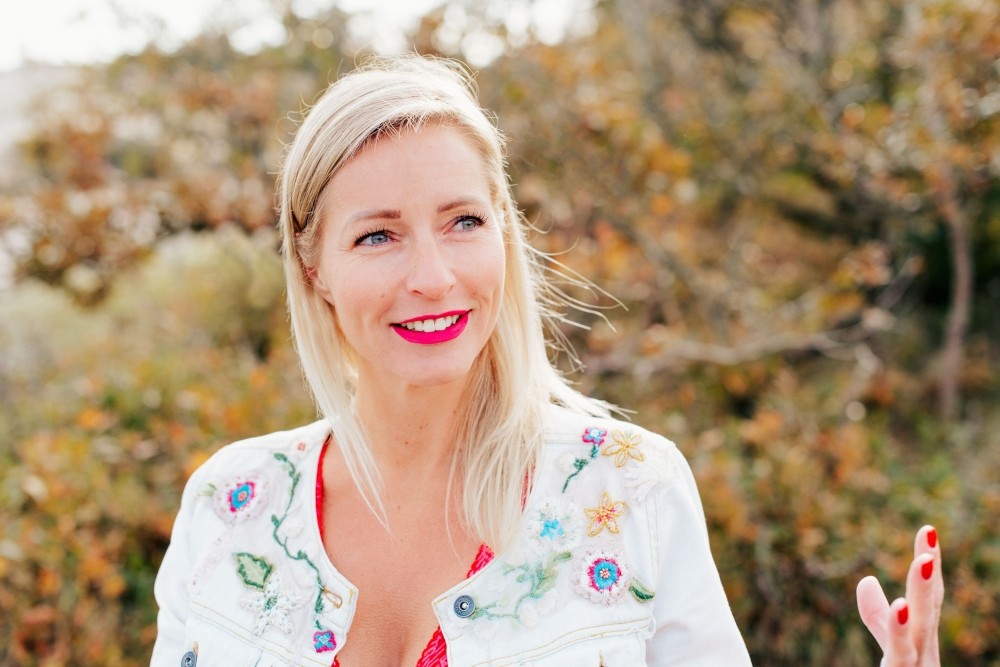 Wat is op dit moment jouw favoriete gerecht?
Romana: 'Wat ik momenteel graag eet is chiapudding. Je kunt hier eindeloos mee variëren en je neemt het makkelijk mee. Aangemaakt met kokosroom, blijf je lekker lang verzadigd. Heerlijk met blauwe bessen en wat gehakte noten.'
Waar haal jij jouw inspiratie vandaan?
Romana: 'Ik zit al een tijd op instagram en volg veel toffe accounts die mij inspireren. Niet alleen op voedingsgebied. Ik volg veel vrouwelijke ondernemers die allemaal op hun eigen manier vormgeven aan hun passie! Supertof om elkaar te kunnen inspireren!'
Je gouden tips voor een happy, healthy lifestyle
Romana: 'Zorg goed voor je darmen! Het klinkt als een cliché, maar oh zo belangrijk. Je gezondheid wordt voor een groot deel bepaald in je darmen. Zelfs een depressie vindt vaak zijn oorsprong tussen mond en kont ;) Vandaar mijn onderschrift healthy lifestyle, happy you! Body en mind zijn echt veel meer met elkaar verbonden dan je in eerste instantie zou denken.'
Wat zijn je ambities?
Romana: 'Ik ben heel druk met het schrijven van een boek! Niet een standaard dieetboek met veel tekst en uitleg, maar vooral een heel praktische en kleurrijke handleiding met 4 uitgeschreven weekmenu's, lowcarb en geïnspireerd op de mediterraanse keuken.
La Dolce Vitaal! Daarnaast wil ik nog minimaal 1 miljoen vrouwen bereiken en coachen naar een healthy lifestyle, zodat ze fit, slank en zo optimaal gezond mogelijk kan leven!'
Wat wil je ons graag meegeven?
Romana: 'Wees lief voor jezelf, volg een gezonde leefstijl uit liefde voor je lijf, niet om jezelf te 'straffen' omdat je in het weekend wat te uitbundig hebt gegeten en gedronken.
Focus je op je pluspunten en benoem die ook voor jezelf. Steek geen energie meer in de dingen die je minder mooi vindt, alles wat je aandacht geeft groeit! So use that energy wisely!'
Posted By
anna van neerven