Vegan Journey van Laura Zofia
10/03/2019 10:35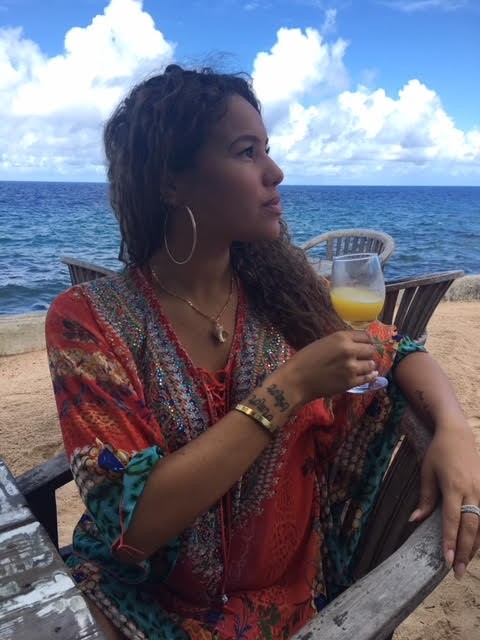 Tijdens haar mooie leven in Curacao met haar partner, vroegen ze zich het volgende af: Waar komt ons eten nou eigenlijk vandaan? Het begin van haar journey naar een vegan lifestyle.
Vanaf welk moment besloot je om te kiezen voor een veganistisch voedingspatroon?
Laura: 'Mijn wederhelft en ik woonden samen 1,5 jaar op Curaçao. We leefden buiten, op het strand, in de zee, onder de zalige zon, en in volledige harmonie en in contact met de natuur, dat we ons wel moesten afvragen waar al ons eten vandaan kwam! Bovendien aten wij overdag voornamelijk alleen tropische vruchten, en we voelden ons zo goed daardoor!
We plukten letterlijk mango's, noni fruit, ananas, knippas, cashew vruchten en kokosnoten uit onze tuin! Hmmm! Tijdens deze periode besloten we ook, dat we klaar waren om ons kindje, onze 'Creatie van Liefde' te ontvangen. Dus wij voelden ons uiteraard verantwoordelijk om de beste versie van onszelf te zijn als ouders, (mentaal, spiritueel en fysiek) voordat wij een nieuw leven zouden creëren. Dus dat betekende geen dierlijke producten meer, geen leed, verdriet, en moord meer in ons pure lichaam. Samen hebben we heel veel documentaires gekeken, gelezen en onze waarheid gevolgd. We voelden aan alles dat dit ons pad was. En ons meisje voelde dat ook, want binnen een paar weken na deze groei van bewustwording, waren we in blije verwachting, en was ik zo ready voor 'my plantbased pregancy journey!'
Hoe reageerde jouw omgeving hierop?
Laura: 'Heel erg goed! Niemand was verbaasd omdat ik voordat ik een plantaardige levenssijl begon, al een tijd een vegetarisch dieet volgde. Mijn familie is juist erg geïnteresseerd en vaak willen ze just komen eten omdat ik zo lekker kook. Daarbij zijn ze ook enthousiast omdat ze nu weten dat plantaardig eten zo onwijs lekker kan zijn!
Ook al is het in de Surinaamse/Caribische cultuur nog een beetje taboe, toch staan veel mensen er in mijn omgeving absoluut voor open. Vooral als ik de authentieke Surinaamse/Caribische gerechten 'veganize'!'
Waar liep je tegenaan tijdens je journey?
Laura: 'Dat ik iedereen wilde wakker schudden! Ik vond het lastig om te zien dat ik niet iedereen waarvan ik houd, tegelijkertijd met mij samen kon 'overtuigen' of inspireren dat een plantaardig dieet, het beste is voor mens, dier en milieu. Vooral als familie leden ook echt gezondheidsklachten hebben, wil je ze gewoon helpen om zichzelf te genezen door plantaardig te gaan eten. Soms wilde ik het zelfs van de daken schreeuwen, om zo alle dieren, mensen, en onze planeet te redden! Want je maakt zelf zoveel mee in het proces van bewustwording en dan wil je iedereen bewust maken. Uiteindelijk heb ik het moeten loslaten en leren geduld te hebben. Er komen elke dag steeds meer vegans bij en daar ben ik zo dankbaar voor!! Ik weet en respecteer dat iedereen zijn eigen pad bewandeld. Everything at divine timing. I can only lead by example en mensen enthousiast maken met mijn gerechten en levenswijze!'
Voor welke momenten ben je dankbaar?
Laura: 'Voor elk moment! My attitude is gratitude!'
Hoe blijf je geïnspireerd?
Laura: 'Door alles en iedereen. Door smaken, door naar mijn lichaam te luisteren, door het seizoen, door mijn dochtertje die nu voor het eerst begint te eten en te proeven, door social media. Ik leer elke dag bij! De laatste tijd ben ik mij meer gaan verdiepen in African Holistic Health, Alkaline Veganism & Ayurveda.'
Welke boodschap wil je uitdragen naar jezelf, anderen en de wereld?
Laura: 'Volg je hart en intuïtie en handel vanuit liefde en compassie dat hebben we allemaal in ons. Steker nog wij zijn liefde. Wees lief en geduldig voor jezelf. Transformatie en healing hebben tijd nodig. Dus ook de transitie van je levensstijl. Elk stapje is een vooruitgang en wees daar trots op en dankbaar voor. Omring jezelf met mensen waardoor je geïnspireerd raakt. Mensen die praten over hun visies en hun dromen verwezenlijken. Ga naar buiten, geniet. Doe waar jij je goed bij voelt en leef in je eigen waarheid en volgens jou authentieke zijn! Ik geloof in je, ik heb liefde voor je. From my soul to yours!
Wat zijn je tips voor mensen die over willen stappen naar een veganistisch voedingspatroon?
Laura: 'Dit is je roeping. Je wordt niet voor niets getrokken naar deze levenstijl. Je bent klaar om een nieuwe versie van jezelf te ontdekken en te ontrafelen. Een prachtige transformatie! Neem je tijd lieve mooie ziel..het is veel informatie en je wordt niet van de een op de andere dag de perfecte 'vegan'. Trouwens wie is wel de 'perfecte vegan'?! En daar gaat het ook niet om, het gaat om je intentie, jou liefde voor de zielen waar we onze planeet mee delen en hoe we onze Moeder Aarde behandelen en achterlaten uiteindelijk, voor onze nakomelingen. Het gaat om jou, je eigen gezondheid, vitaliteit en je stralende zelf! En ga lekker veel vegan tentjes bezoeken. Yummm!
Laat je inspireren door de kleurrijke gerechten. Kijk op instagram (
@livingplantlife
bijvoorbeeld ;)) en 't leukste nog zelfs, duik zelf de keuken in en creër nieuwe gerechten! Alle informatie is binnen handbereik, het is aan jou, om het te ervaren. Ik ben in ieder geval heel trots op je! Je redt prachtige liefdevolle slimme wezens, je geeft liefde en respecteert Moeder Natuur en dit alles terwijl jij er geweldig en stralend uitziet! Zo inspirerend WAUW! Dankjewel hiervoor, dankjewel voor jou!
Posted By
anna van neerven