A healthy lifestyle volgens Lisa Steltenpool
05/07/2019 14:49
Lisa Steltenpool is diëtist met focus op plantaardig eten. Met haar kennis en ervaring als diëtiste wil ze graag anderen mensen inspireren door te laten zien dat plantaardig eten heel voedzaam is. Niet alleen goed voor ons klimaat en de dieren, maar ook voor je gezondheid!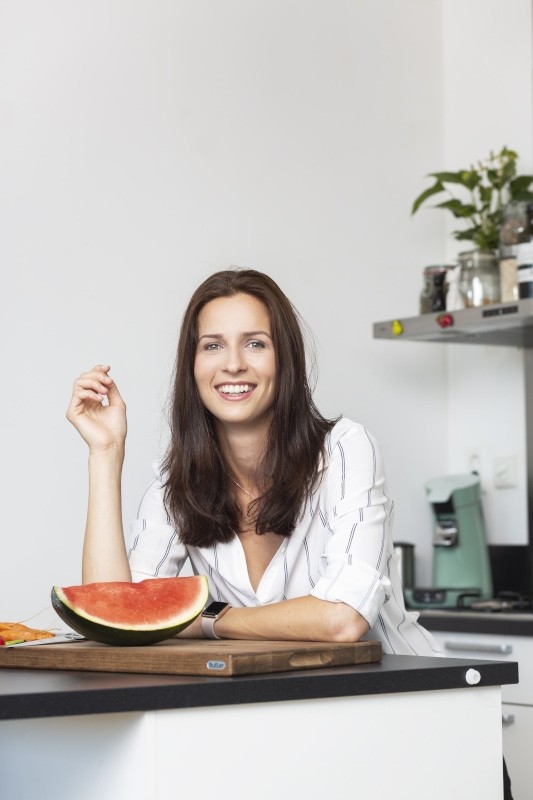 Op dit moment is Lisa bezig mer haar nieuwe boek! Ze hoopt hiermee anderen te inspireren om meer plantaardige en gezonde keuzes te maken, om zo het meeste effect te behalen!
Vanaf welk moment besloot je aandacht te geven aan je healthy lifestyle?
Lisa: 'Dit begon al op mijn 10e! Met mijn vader keek ik een tv-programma, waarin een koe werd geslacht. Hij kreeg een pin door zijn hoofd geschoten en ik draaide me om naar mijn vader en zei 'pap gebeurt dit echt voor vlees? Is dit nodig?' Waarop hij zei 'ja, meis helaas wel…' Dit was het moment waarop ik dacht, nee ik wil geen vlees meer eten.
Echter heeft het nog een tijd geduurd voordat ik echt vegetariër werd, zelfs een paar maanden. Van een vriendin hoorde ik namelijk dat je kaal zou worden, en dat vond ik wel een naar idee. De dag dat ik geswitcht ben naar vegetariër was uiteindelijk in de zomer op mijn vaders verjaardag. Toen ik hiervoor koos heb ik zoveel nare reacties naar mijn hoofd gekregen. Mensen gaan grapjes maken of plagen je. Zoals: 'je krijg een ijzertekort', 'je mascara is gemaakt van moederkoek'. Door dit soort reacties ga je wel nadenken van wat je nou eigenlijk eet. En wat is bijvoorbeeld ijzer? Op dat moment begon die interesse al met het opzoeken van dingen via het voedingscentrum. Zoals, wat zijn eiwitten, hoe krijg je dat binnen?
Vanaf mijn studie kwam de focus wel echt te liggen op mijn gezondheid. En kwam ik erachter hoe ik daadwerkelijk goed kan eten. Toen ik op mezelf ben gaan wonen op mijn 19e besloot ik veganist te worden. Deze overstap vond ik vrij lastig. Niet zozeer het eten zelf maar meer de omgeving. Omdat je eigenlijk echt 'uit de kast' moet komen als vegan. Je had het acht jaar geleden veel lastiger ten opzichte van nu. Er was weinig informatie te vinden en ook ik dacht dat veganisme stom was in het begin. Ik kende niemand! Nu is het veel makkelijker om als vegan door het leven gegaan. Je wordt veel meer gesteund, er zijn veel meer websites, veel meer community. Dat was er toen niet.
Je was toen die tijd de enige die bepaalde dingen vond als veganist. En je voelt je dan best eenzaam. Dus ik ben al heel snel bij organisaties gegaan zoals Viva las Vegas destijds, dat heet nu ProVeg en bij de Nederlande Vereniging voor Veganisme. Het wordt gelukkig nu allemaal makkelijker gemaakt door middel van onder andere social media. Je bent niet zo snel een 'einzelganger' meer.'
Wat betekent voor jou gezond en lekker eten?
Lisa: 'Dat het ten eerste lekker moet zijn, smaakvol. Kies voor gerechten met verschillende smaken en kleuren. Maar ook dat je jezelf goed voelt na het eten is belangrijk. Een hamburger is op z'n tijd lekker, maar als je elke dag een hamburger zou eten dan voelt dat niet goed. Je energieniveau moet bij lekker en gezond eten omhoog gaan, zodat je jezelf echt goed voelt. Voor mij betekent dat zoveel mogelijk whole foods en zo min mogelijk bewerkt. Geef vooral de voorkeur aan alles wat voedzaam is. De recepten die ik samenstel zijn met zoveel mogelijk voedingswaarden, combinaties zodat dingen beter worden opgenomen, en dat je ijzerwaarde sneller omhoog gaat.'
Wat eet je zoal op een dag?
Lisa: De dag start ik meestal met een havermoutje, met lijnzaad voor omega 3, blauwe bessen, amandelboter en koekkruiden. In lijnzaad zit ALA, wat goed is voor je. ALA is een essentieel vetzuur. Dit betekent dat het lichaam het niet zelf kan maken en je dit vetzuur via de voeding binnen moet krijgen. Tijdens lunch kies ik meestal voor een salade. Vaak met wat peulvruchten. Zoals kikkerwten (dat zijn mijn lievelings!), beluga linzen, kidneybonen, zwarte bonen, veel groenten en altijd een lekkere dressing erbij.
En avondeten dat verschilt heel erg. Ik probeer zoveel mogelijk nieuwe dingen te maken. Het liefst elke avond iets totaal anders! Omdat ik daarmee nieuwe recepten kan ontwikkelen. Laatst had ik bijvoorbeeld een heerlijke vegan burger, met zoete aardappelfrietjes uit de oven en een beetje broccoli, lekker makkelijk!'
Waar haal je jouw inspiratie vandaan betreft gerechten?
Lisa: 'Heel veel dingen bestaan al. Denk bijvoorbeeld aan pasta, risotto en poké bowls. En vanuit bestaande gerechten maak ik variaties. Soms bedenk ik wel iets totaal nieuws en dan is het af en toe niet te eten (haha).
Laatst probeerde ik een één pots quinoa bowl te maken. Waarbij ik gewoon alles in één pan deed, kokosmelk erbij, kruiden erbij en deksel op de pan en kijken of het lekker werd. En belukkig was deze ook best lekker! Als je echt een nieuw gerecht wilt maken wat nog nooit iemand heeft gemaakt, is de kans wel vaak groot dat het niet lekker wordt. Pasta is bijvoorbeeld een veilige keuze en ook een poké bowl kan je (bijna) niet verknallen.
Wat is je favoriete gerecht op dit moment?
Lisa: 'Elke week heb ik eigenlijk wel een nieuwe favoriet. Maar met de zomer in zicht vind ik deze easy vegan poke bowl wel erg lekker: easy vegan poké bowl.'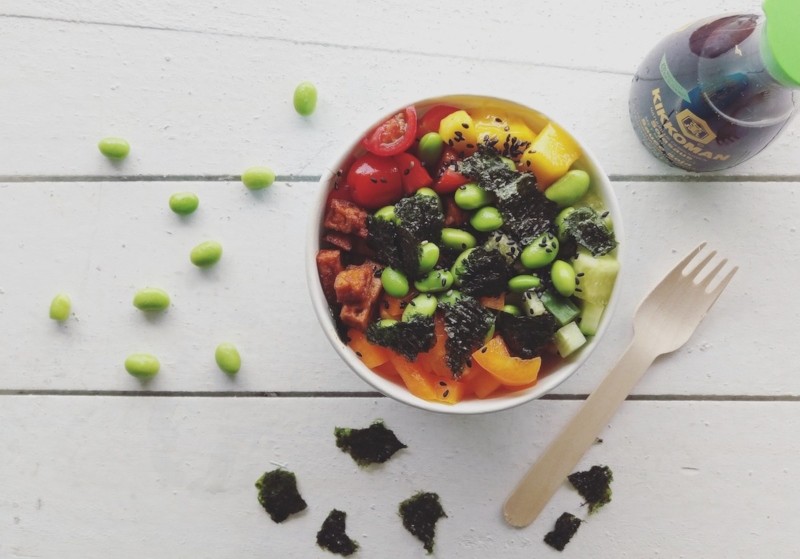 Jouw gouden tips voor een happy & healthy lifestyle
Lisa: 'Iets wat ik bij mijn cliënten vaak benoem is een goeie tip om echt goed van start te gaan. Om je lifestyle stap voor stap beter te maken, kan je het beste werken door hele kleine doelen te stellen. Hiervoor heb ik een schema opgesteld, waar je wekelijks drie tastbare doelen stelt. Stel je wilt bijvoorbeeld meer water drinken. Dan stel je als doel: elke dag zes glazen water/thee. Heb je het doel behaald, dan vink je dit af. Als we weten dat het een klein doel is, dan heb je snel een beloning (dopamine). En als je het afvinkt dan is het meetbaar. Aan het einde van de week kun je dan zien hoe je het hebt gedaan en reflecteren.

Wat zou je graag aan ons willen meegeven?
Lisa: 'Het stukje idealisme. Te zien dat er heel veel misgaat. Veel mensen lijden onder slecht eten. De dieren lijden onder het vlees eten. Het klimaat lijdt ergens onder. En dat de oplossing zo makkelijk kan zijn.
Althans voor mij is het makkelijk, het is niet zozeer makkelijk om het te implementeren. Maar een stap zetten die richting op dat is vrij makkelijk. Kies bijvoorbeeld vanavond voor kip van de Vegetarische Slager in plaats van normale kip. Het is niet zo moeilijk. Die oplossing wil ik graag meegeven omdat we daarmee zoveel leed/onnodig leed voorkomen kan worden!'
Ben je ook geïnspireerd door Lisa? Bezoek dan ook eens haar website : www.lisasteltenpool.nl en volg haar ook via Instagram: @lisasteltenpool.
Posted By
anna van neerven