We Love - The Planet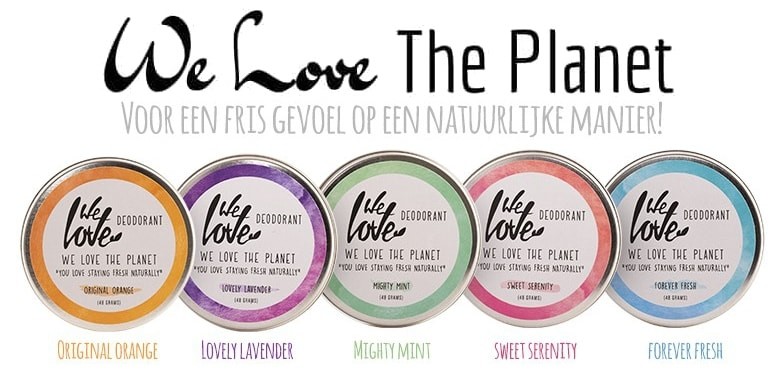 Ontdek de natuurlijke deodorants van We Love The Planet.
De crèmedeodorant van We Love The Planet bestaat alleen uit 100% natuurlijke ingrediënten en is biologisch gecertificeerd. Er zijn geen synthetische en huidbelastende ingrediënten aan toegevoegd en de deodorant bevat geen aluminium. Hierdoor is de deodorant beter voor jouw huid en onze planeet.
We Love The Planet deodorants zijn verkrijgbaar in vijf verschillende geuren voor zowel mannen als vrouwen en hebben een inhoud van 48 gram.
De natuurlijke ingrediënten in de deodorant werken verzachtend en hydraterend en houden je heerlijk fris! De zachte crème wordt snel opgenomen in je huid en verstopt de poriën niet. Elke deodorant heeft als basis een combinatie van onder andere kokosolie, bijenwas en maiszetmeelpoeder die de deodorant goed smeerbaar maken en je huid fluweel zacht. Het zuiveringszout neutraliseert geurtjes op een natuurlijke wijze.
De deodorants worden geleverd in stevige, kleine blikjes met een inhoud van 48 gram. We hebben hier bewust voor gekozen, blik heeft in Nederland een recyclingpercentage van 95% en is daarmee de best gerecyclede verpakkingssoort. De deodorant is handig om mee te nemen en omdat het een crème is mag je hem meenemen in het vliegtuig en naar festivals!
Ondanks het kleine formaat gaat de deodorant maar liefst twee tot drie maanden mee, afhankelijk van het gebruik.
Tips voor gebruik:
Een toefje op je vingertop is genoeg voor 1 oksel. Smeer het uit over je hele oksel.

Wacht even een paar minuten met kleding aan doen als je de deodorant hebt opgedaan, de kokosolie heeft even de tijd nodig om in te trekken. Dit voorkomt vlekken.