Bragg The company - FAQ
Bragg Questions & Answers
What is Natural Apple Cider Vinegar?
Different from the refined and distilled vinegars usually found in supermarkets, Natural Apple Cider Vinegar is made from fresh, crushed, organically grown apples and allowed to mature in wooden barrels, which boosts its natural fermentation qualities. When mature, it contains a web-like substance, called "mother" that becomes visible when the rich brownish liquid is held to the light.
What is the nature of the "Mother?"
The mother is the dark, cloudy substance in the ACV formed from naturally occurring pectin and apple residues - it appears as molecules of protein connected in strand-like chains. The presence of the "mother" shows that the best part of the apple has not been destroyed. Vinegars containing the "mother" contain enzymes and minerals that other vinegars may not contain due to overprocessing, filtration and overheating.
Why is ACV not pasteurized?
Use the Bragg's ACV Drink regularly to enjoy all the health benefits of ACV (consult your physician or healthcare giver for your specific suitability and use). Pasteurization is the heating process intended to remove potential problem bacteria from consumable liquids such as milk, juices etc. However, this process will also remove delicate nutrients and enzymes that may constitute a major portion of the food value of that consumed. In the case of Bragg's Raw Organic Apple Cider Vinegar, pasteurization would eliminate the "mother", a major health giving factor
of their vinegar.
Is it okay to eat/drink the "Mother?"
The "mother" is the most nutritious part of the Apple Cider Vinegar and is very beneficial to digest. Often the "mother" settles to the bottom of the bottle. They recommend shaking the bottle lightly to distribute the "mother" before dispensing.
Since Apple Cider Vinegar is unpasteurized, is it protected from E.Coli bacteria?
Bragg Apple Cider Vinegar does not carry the E.Coli bacteria as the acidity in the vinegar is effective in killing the 0-157 strain of E.Coli bacteria.
Does Bragg Apple Cider Vinegar need to be refrigerated?

Bragg Apple Cider Vinegar does not need to be refrigerated. They only recommend that you keep the product out of direct sunlight in a relatively cool location.
What is the shelf life of Apple Cider Vinegar?
ACV has an FDA required "official" shelf life of three to five years after the bottling date (found on the bottle), however, experience has shown that the product is safe, usable and effective for an indefinite period if kept out of direct sunlight.
Where is the expiration date printed?
The Bragg Apple Cider Vinegar expiration date is printed on the upper portion of the bottle, at the shoulder and neck taper area, see photo below. The upper line of the 2 contains the expiration date. The lower0 line contains the 'lot' number for the manufaturer reference and the time, in 24 hour format, that it was bottled. Bragg's Organic Apple Cider Vinegar has a shelf life of 5 years, although due to its nature, Bragg ACV can be safetly used for many years after expiration date.
Is Apple Cider Vinegar safe to take during pregnancy?
Bragg Apple Cider Vinegar is safe to take during and after pregnancy. It helps to rid the body of toxins and may even help with any complications that may arise or have arisen with the pregnancy. It supports regularity and promotes digestion.
Is it possible to take too much Apple Cider Vinegar?
There is no clear limit as to how much Apple Cider Vinegar an individual can or should ingest. However, one should remember that, as with anything in life, one can have "too much of a good thing".For a delicious, ideal pick-me-up at home, work, sports or gym, they recommend taking the Bragg Vinegar Health Drink 3 times daily - upon arising, mid-morning and mid-afternoon. To make the drink, stir 1 to 2 tsps Bragg Organic Vinegar in 8 oz. Glass Purified Water and (optional) to taste 1 to 2 tsps Organic Honey, 100% Maple Syrup, Blackstrap Molasses, or 4 drops herb Stevia.
Is it necessary to add honey to ACV?
It is not imperative to add honey to the Bragg Apple Cider Vinegar cocktail; just use ACV and distilled water instead. They receive many letters from people who tell them about the many health benefits that they attribute to taking the Bragg ACV without adding honey. Honey is recommended because it has proven bioactive properties and contains the vitamins and enzymes necessary for the proper digestion and metabolism. It does add health benefits to the ACV cocktail, but fortunately the ACV has plenty of health uses and benefits without the honey.
Is it okay to take the Apple Cider Vinegar by itself?
It is recommended that you take the Apple Cider Vinegar diluted with water or juice. Because Apple Cider Vinegar acts like a sponge, drawing toxins from the body tissues, it may cause you discomfort if you choose to digest the vinegar using spoonfuls only.
What, exactly, are the internal and external benefits attributed to ACV?
Following the old cliché, "An apple a day keeps the doctor away," apples are one of the oldest, most nutritious foods on earth. They are rich in potassium, a mineral many of us are deficient in, and a deficiency that causes old age to creep upon us sooner. Calcium maintains our hard tissues such as bones, and potassium is the equivalent to the body's soft tissues, keeping the body's flesh and arteries soft and resilient. Fresh, organic apples are used to make Apple Cider Vinegar, which contains necessary ingredients, such as enzymes, and life-stimulating minerals, mainly potassium, in a natural state. Besides being a natural stimulant for vitality, Apple Cider Vinegar cleanses and restores nutrients to the body so that the body can heal itself.
Helps Promote a Youthful Body

Helps support a healthy immune system

Helps Maintain Healthy Skin

Improves Digestion and Assimilation

Soothes Tight and Aching Joints and Sore Muscles from exercise
Is Bragg Apple Cider Vinegar Gluten Free?
Yes. Bragg Apple Cider Vinegar is Naturally Gluten Free.
I don't see the "Mother" in my bottle of Bragg ACV. Is it not there?
The "Mother" is not always visible. Rest assured, even if it's not visible, they make sure the "Mother" is always present in every bottle of Bragg ACV.
Where do they get the apples that are used for their ACV products?
Bragg uses only Certified Organic apples grown in the United States. 99.9% of their apples are grown in the states of Washington and California. On occasion, a small percentage comes from the state of Idaho.
Do their apple products contain arsenic?
Many of their Bragg customers have asked about the possibility of arsenic in their Bragg apple products. Bragg organic apple products have no arsenic in them.
Arsenic is not in the apple itself or even in the main part of the apple. The arsenic is in the seeds of the apple. There is still debate as to how many seeds one would need to consume in order to be harmful or even a concern to an animal or a human being. Bragg's procedures for making Bragg Organic Apple Cider Vinegar eliminates the last scraps of the apple, such as the seeds and stems before their products are made. As a result there is no seed contamination in any of their Bragg products.
Back in the 1930's and 1940's there was a toxic spray on the market that contained small amounts of lead arsenic. At that time, there was concern that residual amounts of this spray could be left in the ground. The spray was taken off the market. Today, Bragg approved organic farmers only use organic biodegradable sprays that meet certified organic standards for growing organic apples.
Many commercial apple juices are made by using concentrate that is imported from other countries. Some of these foreign countries follow different standards and procedures using toxic sprays and fertilizers. Bragg Organic Apple Cider Vinegar is made from whole fresh pressed apples grown in the USA by USDA Organic standards. Since seeds are eliminated from their products and they do not use apples from other countries, Bragg consumers are free from having a risk of arsenic in Bragg Organic Apple Cider Vinegar products, Bragg salad dressings, and Bragg Organic Apple Cider Vinegar drinks.
Is their ACV safe for people with peanut, gluten (wheat), and tree nut allergies?
Yes. The equipment they use to make Bragg ACV is dedicated and not contaminated.
How do I make the Bragg Vinegar Health Drink?
For a delicious, ideal pick-me-up at home, work, sports or gym, they recommend taking the Bragg Vinegar Health Drink 3 times daily - upon arising, mid-morning and mid-afternoon. Stir 1 to 2 tsps Bragg Organic Vinegar in 8 oz. Glass Purified Water and (optional) to taste 1 to 2 tsps Organic Honey, 100% Maple Syrup, Blackstrap Molasses, or 4 drops herb Stevia.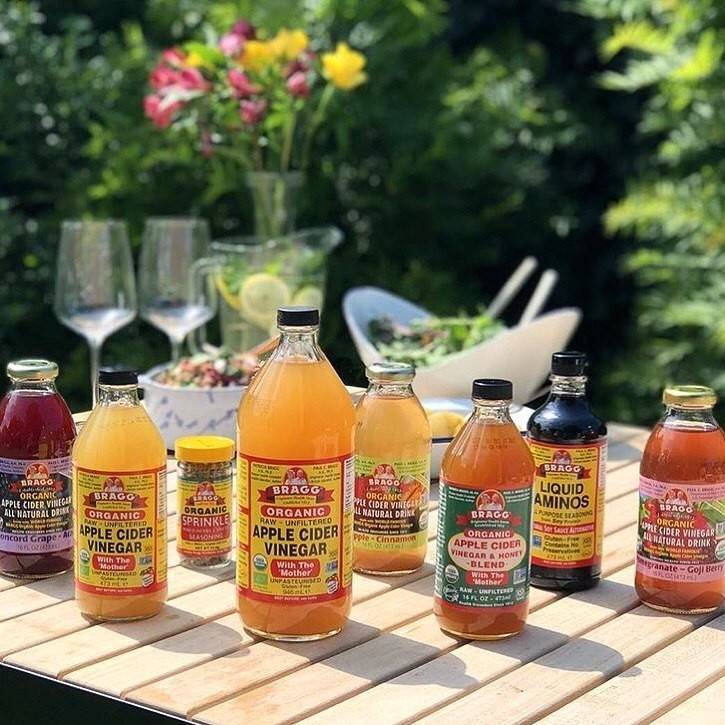 About Bragg

Paul, and his daughter, Patricia, have been health pioneers for decades. When the 'engineered fast food' products of science and industry had captured the attention of most Americans, Paul Bragg campaigned for a diet and lifestyle that focused on natural live foods and a healthy regime for a vital and long life. These ideas, based around natural and organic foods, are gaining praise and acceptance world-wide.
The Bragg Healthy Lifestyle Motto:
"You are what you eat, drink, breathe, think, say and do".
Paul was a Health Crusader from the age of 16 when he got his health back and vowed to be a crusader for good health. Patricia carries on promoting and encouraging people to take charge of their lives and health. She is a shining example of the Bragg way to vibrant health. These pages are dedicated to Paul, Patricia and their friends and associates that continue to make the Bragg Healthy Lifestyle a positive force helping people to a longer, healthier, happier life.
An inside look at the career and accomplishments of Dr. Paul C.Bragg, Life Extension Specialist, and founder of the American Health Movement. You'll find notes and history of Paul's contributions to the Health/ Organic Food Movement.
As the leader of the Bragg Crusades, Patricia carries the Bragg Healthy Lifestyle message world-wide. Through the Bragg Health Books, personal appearances and radio interviews; millions have found the way to a healthy and happy life through the Bragg Healthy Lifestyle.
Organic Gardening and its Rewards
Organic gardening not only assures the most nutritious of vegetables and fruits, but also the most beautiful flowers that nature can grow. Patricia's idyllic gardens are an ever-changing landscape of beauty that showcase nature's best, regardless of the season.
Bragg Live Foods, Inc. is the result of a life time of crusading the word of good Health worldwide since 1912. Paul C. Bragg, originator of Health Food Stores in America, founded the company, now run by his daughter Patricia Bragg, N.D., Ph.D., who continues to spread the gospel of health by providing natural healthy products, and a library of self-help books. Bragg Live Food Products at one time produced 365 products, the first vitamins, minerals, health teas, health foods, health candies; skin care etc, "we had one for every day of the year" says Patricia. Now she continues to sell her three favorites, Organic Apple Cider Vinegar, Organic Olive Oil, and Liquid Aminos, as well at 10 best selling self-help books. Her Apple Cider Vinegar-Miracle Health System has sold over six million copies.