Wat is het keto dieet? Interview met keto queen Romana Switzer :-)
17/06/2020 08:12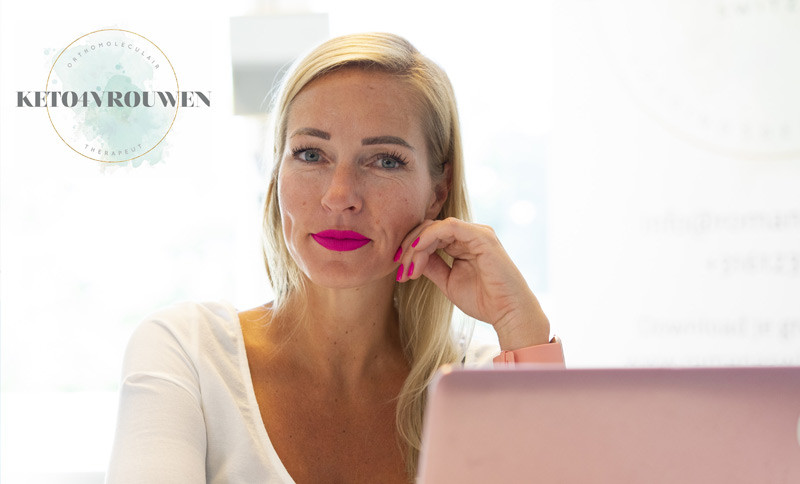 Onlangs sprak ik met Romana Switzer van keto4vrouwen.nl. Wij noemen haar intern de Keto Queen, omdat zij alles weet van ketogeen diëten. Als orthomoleculair therapeut (health & lifestyle coach) begeleidt zij dagelijks vrouwen naar een gezonde levensstijl. Zelf is Romana in het verleden 40 kg in 3 maanden afgevallen (!!!) en heeft haar ideale gewicht behouden. Niet voor niets dus dat wij benieuwd zijn naar Romana's keto programma's!
Wat houdt keto diëten in, in het kort?
Romana: 'Bij een keto dieet ga je over van glucoseverbranding op vetverbranding door het verlagen van de inname van koolhydraten. Door onder de 25 gram koolhydraten per dag te blijven, wordt de vetverbranding in gang gezet. Je lijf is dan zogezegd in ketose.'
Is een keto dieet geschikt voor plaatselijke vetverbranding, zoals buikvet?
Romana: 'Het plaatselijk verbranden van vet is - ondanks wat je soms wordt wijsgemaakt - niet mogelijk. MAAR, een keto dieet kan wel degelijk een positief effect hebben op je buikje. Met het groeien van je buikje, ontwikkel je namelijk een insulineresistentie. En doordat bij het keto dieet de insulinegevoeligheid wordt verhoogd, komen je hormonen in balans. Daardoor verbrand je dus makkelijker vet op je buik.'
Hoe ben je zelf in aanraking gekomen met keto?
Romana: 'In 2014 was ik me aan het omscholen tot orthomoleculair therapeut en kwam er via mijn studie - en de mensen die ik daardoor sprak - mee in aanraking. In die tijd was in Nederland nog weinig bekend over het keto dieet. Veel van mijn kennis deed ik dan ook op via deskundigen in Amerika. In die tijd heb ik een grote ontwikkeling doorgemaakt. Eerst door er veel informatie over te lezen en zelf het keto dieet te gaan volgen. Vervolgens heb ik 2 coaching certificaten behaald bij goeroe's op het gebied van keto in Amerika. Zo kon ik mijn kennis gaan inzetten voor mijn klanten.'
Zelf ben je in het verleden 40 kg afgevallen, was dit dankzij het keto dieet?
Romana: 'Nadat ik kennis opdeed over het keto dieet, besefte ik dat ik tijdens het afvallen ook in ketose ben geweest. Destijds bestond dit dieet alleen nog niet als zodanig. Maar doordat ik mijn lijf onbewust in ketose bracht, kon ik zo veel afvallen. Ik moet er wel bij vermelden dat ik een ijzersterke drive had om mij aan een strikt dieet te houden. Ik zette daar alles voor opzij. Bovendien was ik destijds nog heel jong, flexibeler en had nog geen kinderen. Dit zorgde er tevens voor dat het makkelijker was om me vast te houden aan mijn doel om 40 kilo af te vallen. En zonder de juiste motivatie red je het sowieso niet.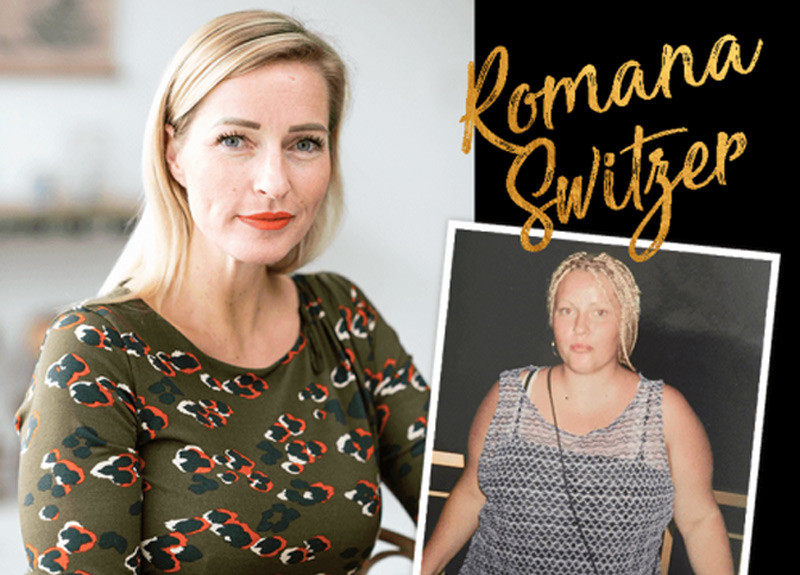 Is het keto dieet geschikt als tijdelijk dieet, of is het meer een levensstijl?
Romana: 'Voor een succesvolle uitkomst zul je absoluut je levensstijl aan moeten passen, ander ga je jojoën. Maar dit geldt voor elk dieet, dus ook voor keto. Eigenlijk zou je dus kunnen zeggen dat keto een levensstijl is. Het moet ook bij je passen en dat ervaar je pas echt als je ermee begint.'
Is het keto dieet makkelijk te volgen?
Romana: 'Dat ligt eraan hoe sterk je motivatie is en of je er klaar voor bent om je levensstijl aan te passen. Daarnaast is het belangrijk dat je je richt op wat je wél mag eten. Vaak wordt er gedacht dat je bijna niks meer mag eten en dat is absoluut niet waar.'
Als je geen koolhydraten meer mag, wat mag je dan wel?
Romana: 'In het gemiddelde Westerse dieet zitten dagelijks tussen de 150 en 300 gram koolhydraten. Dit is voor de meeste mensen te veel. Koolhydraten op zichelf zijn niet 'the bad guys', maar het wordt een probleem wanneer je hier een overdaad van binnenkrijgt. Bij keto is het dus zaak om koolhydraatrijke voedingsmiddelen - waaronder aardappelen, pasta, rijst en brood etc. - te vervangen voor gezonde alternatieven met veel gezonde vetten en eiwitten die je onder andere haalt uit vlees, vis, zuivel, groente en een paar fruitsoorten.'
Welke groenten passen het beste in een keto dieet en welke niet?
Romana: 'In een keto dieet nemen groenten die laag zijn in zetmelen een belangrijke plaats in. Te denken valt bijvoorbeeld aan groene groenten en bladgroenten, aubergine, oranje bolpompoen, sojabonen etc.. Groente die juist is af te raden, is bijvoorbeeld zoete aardappel, maar ook peulvruchten en bruine en witte bonen passen gewoonlijk niet in een keto dieet.'
Hoe zorg je ervoor dat je voldoende eiwitten binnen krijgt?
Romana: 'Zorg ervoor dat je voldoende vlees, vis, eieren en zuivel eet.'
Welke supplementen zijn aan te raden bij een keto dieet?
Romana: 'Het toevoegen van supplementen is heel persoonlijk. Het kan waardevol zijn om eerst een bloedtest uit te laten voeren of advies van een professional op dit gebied in te winnen. Wat voor de meeste mensen een goede basis vormt is: een goede multivitamine, vitamine D, kwalitatief hoogwaardige visolie, algenolie of krillolie, aangevuld met elektrolyten die bij ketogene leefstijl belangrijk zijn.'
Is een keto dieet ook geschikt voor veganisten?
Romana: 'Persoonlijk ben ik niet zo'n voorstander een vegan lifestyle. Ik heb te vaak (ernstige) tekorten aan bepaalde vitamines en mineralen in mijn praktijk gezien bij mensen die langere tijd vegan aten. Vooral in combinatie met een ketogeen dieet kan dit lastig zijn, al zijn er wél voedingsschema's op maat beschikbaar. Het aminozuurprofiel compleet maken zonder peulvruchten en bonen is een uitdaging. Natuurlijk is het wel mogelijk om plantaardige eiwitten uit een supplement te halen (red: bijvoorbeeld de vegan protein powder van Plantforce).'
Kun je iets vertellen over de programma's die je aanbiedt?
Romana: 'Jazeker! Hoe snel je je doelen wilt behalen zijn mede bepalend voor de keuze van het te volgen programma. Ik bied twee verschillende online programma's aan:'
'Keto4vrouwen' is een strikt ketogeen programma van 12 weken, waarbij je niet meer dan 25 gram koolhydraten per dag neemt. Dit programma is ook geschikt voor dames met een hormonale disbalans. De 4 in de naam staat voor de vier pijlers waarop dit programma is gebaseerd: hormoonbalans, darmherstel, eindeloze energie en een gezond gewicht.'
'La Dolce Vitaal' is een Bourgondisch ketogeen programma van 6 weken waarbij de nadruk in eerste instantie niet ligt op het in ketose komen van je lichaam, maar waarbij dit wél vaak gebeurt. Dit programma is meer geschikt voor dames die niet al te strikt willen beginnen. Dit houdt in dat het programma minder streng is en er dus af en toe ruimte is voor een wijntje of een feestje. Voor dames met veel sociale verplichtingen is dit een uitkomst.
Wat gebeurt er na het programma?
Romana: 'Na het programma is er sprake van een gedragsverandering die bepalend is voor een gezondere levensstijl. Om dit te bereiken worden tijdens het programma verschillende mindset-opdrachten gegeven. Als het vooraf gestelde doel na afloop van het programma is behaald, hoef je je niet meer strikt aan het dieet te houden. Maar, om niet terug te vallen is het wel belangrijk dat ketogeen het nieuwe normaal is geworden en als rode draad door je levensstijl loopt. Mijn ervaring is dat wanneer je inmiddels goed op de hoogte bent van gezondheidsvoordelen, dat het je makkelijk afgaat, ook met een gezin, werk, kinderen etc. Dus zelfs na een feestje of vakantie is het veel makkelijker om de balans weer terug te vinden.'
Meer weten of aanmelden?
Wil je meer weten over de programma's die Romana Switzer aanbiedt, of gelijk aanmelden? Bekijk alle informatie op de website keto4vrouwen.nl.
Een kleine greep uit producten die goed passen bij een keto dieet: