✓ Vetten, visolie en omega-3-vetzuren
12/11/2018 17:14

Vetten, visolie en omega-3-vetzuren
WAT IS VET EN HET VERSCHIL TUSSEN DE SOORTEN VETTEN
Vet (ook bekend als lipide), is een van de drie klassen van voedingsstoffen; de andere twee zijn eiwitten en koolhydraten. De belangrijkste functie van vet is om energie te leveren voor het lichaam. Pond per pond, vet bevat meer energie (calorieën) dan eiwitten en koolhydraten. Er zijn drie soorten vet:
cholesterol, en
fosfolipiden.
Triglyceriden zijn waar de meeste vetcalorieën worden opgeslagen. Naast het leveren van energie, dient vet ook andere functies, bijvoorbeeld, cholesterol en fosfolipiden zijn componenten van celmembranen en omhulsels die zenuwcellen omringen. Cholesterol is ook belangrijk voor de productie van galzuren en andere hormonen (zoals geslachtshormonen en bijnierhormonen).
WAT ZIJN VETZUREN
Vetzuren bestaan ​​uit ketens van koolstofatomen die aan elkaar zijn verbonden door chemische bindingen. Aan de ene kant (terminaal) van de koolstofketen bevindt zich een methylgroep (een cluster van koolstof- en waterstofatomen), de andere terminal is een carboxylgroep (een cluster van koolstof-, zuurstof- en waterstofatomen). De chemische bindingen tussen koolstofatomen kunnen zowel enkele als dubbele bindingen zijn. Enkele bindingen hebben meer waterstofmoleculen om hen heen dan dubbele bindingen. Deze chemische bindingen bepalen of een vetzuur verzadigd of onverzadigd is (zie onderstaande discussie). Vetzuren komen ook in verschillende lengtes: kortketenige vetzuren hebben minder dan 6 koolstofatomen, terwijl vetzuren met lange keten 12 of meer koolstofatomen hebben.
Vetzuren dienen als energie voor de spieren, het hart en andere organen, als bouwstenen voor celmembranen en als energieopslag voor het lichaam. Die vetzuren die niet als energie zijn verbruikt, worden omgezet in triglyceriden. Een triglyceride is een molecuul dat wordt gevormd door het binden van drie vetzuren aan een glycerolverbinding die dient als een ruggengraat. Triglyceriden worden vervolgens in het lichaam opgeslagen als vetweefsel (vetweefsel).
WAT ZIJN VERZADIGDE VETZUREN
Verzadigde vetzuren bevatten alleen enkele bindingen. Vetten die verzadigde vetzuren bevatten, worden verzadigde vetten genoemd. Voorbeelden van voedingsmiddelen met een hoog gehalte aan verzadigde vetten omvatten reuzel, boter, volle melk, room, eieren, rood vlees, chocolade en vaste bakvet. Overmatige inname van verzadigd vet kan iemands bloedcholesterol verhogen en het risico op het ontwikkelen van coronaire hartziekte verhogen.
WAT ZIJN ENKELVOUDIGE VETZUREN
Enkelvoudig onverzadigde vetzuren bevatten één dubbele binding. Voorbeelden van voedingsmiddelen met veel enkelvoudig onverzadigd vet zijn avocado's, noten en olijven van olijven, olijven en canola. Wetenschappers geloven dat verhoogde consumptie van enkelvoudig onverzadigde vetten (bijvoorbeeld het eten van meer noten) gunstig is voor het verlagen van LDL-cholesterol (het "slechte" cholesterol) en het verlagen van het risico op coronaire hartziekten, vooral als enkelvoudig onverzadigde vetten worden gebruikt ter vervanging van verzadigde vetten en geraffineerd suikers.
WAT ZIJN MEERVOUDIGE ONVERZADIGDE VETZUREN
Meervoudig onverzadigde vetzuren bevatten meer dan één dubbele binding. Voorbeelden van voedingsmiddelen met een hoog gehalte aan meervoudig onverzadigde vetten zijn plantaardige oliën, maïs, zonnebloem en soja. Deze vetten zijn essentieel voor de goede werking van ons lichaam. Daarom worden ze goede vetten genoemd.
WAT ZIJN ESSENTIELE VETZUREN
Essentiële vetzuren zijn meervoudig onverzadigde vetzuren die het menselijk lichaam nodig heeft voor metabolisch functioneren, maar niet kan produceren en daarom moet worden verkregen uit voedsel.
Omega-3-vetzuren zijn een klasse van essentiële meervoudig onverzadigde vetzuren met de dubbele binding in de derde koolstofpositie van de methylterminal (vandaar het gebruik van "3" in hun beschrijving). Voedingsmiddelen met een hoog gehalte aan omega-3-vetzuren omvatten zalm, heilbot, sardines, witte tonijn, forel, haring, walnoot, lijnzaadolie en canola-olie. Andere voedingsmiddelen die omega-3-vetzuren bevatten, zijn onder meer garnalen, mosselen, lichte brokjes tonijn, meerval, kabeljauw en spinazie.
WAT ZIJN OMEGA-6 VETZUREN
Omega-6-vetzuren zijn een klasse van essentiële meervoudig onverzadigde vetzuren met de initiële dubbele binding in de zesde koolstofpositie van de methylgroep (vandaar de "6"). Voorbeelden van voedingsmiddelen die rijk zijn aan omega-6-vetzuren zijn maïs-, saffloer-, zonnebloem-, sojaboon- en katoenzaadolie.
WAT ZIJN N-3 en N-6 VETZUREN
Dit zijn synoniemen voor respectievelijk omega-3 en omega-6-vetzuren.
DE VERHOUDING TUSSEN OMEGA 3 EN OMEGA 6 VETZUREN
De verhouding tussen omega-3 en -6 blijkt van groot belang. In de huidige voeding is de verhouding tussen omega-3 en omega-6 ongeveer 1:20, terwijl 1:1 tot maximaal 1:5 wenselijk is.
WAT ZIJN TRANSVETZUREN
Transvetzuren (transvetten) worden gemaakt door hydrogenering om vloeibare oliën vast te worden. Het verwarmen van omega-6-oliën zoals maïsolie tot hoge temperaturen creëert transvetten. Transvetten verhogen de houdbaarheid van oliën en worden aangetroffen in plantaardige bakvetten en in sommige margarines, commerciële gebakjes, gefrituurde voedingsmiddelen, crackers, koekjes en snacks. Inname van transvetzuren verhoogt LDL-cholesterol in het bloed ("slechte" cholesterol), verlaagt HDL-cholesterol ("goede cholesterol") en verhoogt het risico op coronaire hartziekten.
WAT ZIJN DE VOORDELEN VAN OMEGA-3 VETZUREN
Wetenschappelijk bewijs is dat visolie (voornamelijk omega-3-vetzuren) het risico op plotse hartdoodvermindering. Sommige wetenschappers zijn ook van mening dat omega-3-vetzuren iemands bloedlipiden (cholesterol en triglyceriden) kunnen bevorderen en bestrijden.enkelvoudig onverzadigd vetzuur
lange keten
EPA versus DHA omega-3
EPA en DHA zijn beide belangrijke typen omega-3, met verschillende rollen en acties in het lichaam. Onze vereisten voor elke vetwisseling gedurende het hele leven. Voor gericht omega-3-gebruik kunnen verschillende verhoudingen en doses EPA en DHA geschikt zijn voor verschillende aandoeningen en gezondheidsbelangen.
De twee belangrijkste omega-3 vetzuren die we het meest horen zijn de lange keten vetzuren EPA en DHA. Deze vetten zijn te vinden in vette vis en zeevruchten, met kleine hoeveelheden DHA in algen. Hier leggen we de verschillen tussen EPA en DHA, hun functionele rollen in het lichaam en wanneer het nuttig is om de verhouding ten gunste van de ene of de andere te verplaatsen.
Er is enorm veel onderzoek gedaan naar deze belangrijke voedingsstoffen sinds het voor het eerst werd ontdekt in de jaren 1950 dat visolie veel voordelen voor de gezondheid bood en dat deze voordelen te danken waren aan een type meervoudig onverzadigd vet dat omega-3 wordt genoemd. Ondanks de hoeveelheid onderzoek naar omega-3's, is het pas de laatste jaren (in de afgelopen 15 jaar of zo) dat de acties van EPA en DHA individueel zijn begrepen. Onderzoekers onderzoeken nu vaak de acties van EPA en DHA individueel in plaats van samen, niet meer alleen onder het generieke label omega-3, zoals ze alom worden genoemd.
We hebben nu het geluk om te begrijpen hoe deze vetten in combinatie en geïsoleerd werken, hoe ze worden verteerd, opgenomen en gebruikt in het lichaam, dus we zijn in staat om verschillende melanges van EPA en DHA aan te passen op basis van de gezondheidsvoordelen die we willen bereiken . Bij Igennus hebben we ons lang gespecialiseerd in de rol van de omega-3 vetzuren EPA in klinische voeding, als een krachtig hulpmiddel in de 'toolkit' van de patiënt voor het helpen reguleren van ontstekingen door het herstel van verschillende biologische markers, bekend als de omega-6 tot omega-3-verhouding en AA- tot EPA-verhouding. Voordat we de therapeutische rol van EPA in de voedingsgeneeskunde bespreken, is hier een zeer korte samenvatting van de rol van zowel EPA als DHA in gezondheid gedurende het hele leven.

EPA en DHA tijdens levensfasen: wat te nemen en wanneer?
De vereisten voor EPA en DHA veranderen gedurende het hele leven en dat geldt ook voor de optimale hoeveelheid van elk vetzuur in onze voeding.
Kinderen hebben DHA nodig voor groei en ontwikkeling, en de hersenen, het centrale zenuwstelsel en het netvlies zijn sterk afhankelijk van de voldoende toevoer van DHA tijdens de groei in de baarmoeder. Daarom moeten vrouwen de nadruk leggen op DHA in hun dieet als ze zwanger worden en dit blijven doen totdat ze stoppen met het geven van borstvoeding. Kinderen blijven DHA nodig tot de leeftijd waarop ze naar school gaan, dus als kinderen onder de vijf jaar een omega-3-supplement nemen, moet het DHA bevatten. De uitzondering is voor kinderen met ontwikkelingsproblemen - waar pure EPA of hoge EPA omega-3 het meest effectief is gebleken voor het ondersteunen van de cognitieve functie. We raden waar mogelijk natuurlijk afgeleide bronnen van omega-3, zoals vette vis, aan om een ​​gebalanceerde EPA- en DHA-inname te ondersteunen.
"EPA-niveaus zijn constant in trek en lage EPA-waarden bij adolescenten en volwassenen correleren sterk met de ontwikkeling van psychische problemen, waaronder depressie, dyslexie en dyspraxie, hartproblemen, gewrichts- en botaandoeningen, evenals neurodegeneratieve ziekten zoals MS en Parkinson. "
Leeftijden van de mens Na de leeftijd van vijf begint de ontwikkeling van de hersenen en het CZS te verminderen en vermindert de behoefte van het lichaam aan DHA. Dit is een goed moment om de EPA in het dieet te verhogen, omdat uit onderzoek blijkt dat EPA kan helpen bij het gedrag van kinderen en de academische prestaties, evenals bij focus, aandacht en het verminderen van agressie. Droge huidaandoeningen, astma en allergieën komen ook vaak voor bij kinderen en een goede EPA-waarde kan op dit moment de ontsteking helpen verminderen die met deze problemen gepaard gaat.
Tussen de leeftijd van vijf en 65 jaar kan aan het merendeel van de behoeften van het lichaam worden voldaan door gebruik te maken van EPA-rijke oliën en het eten van vis, zeeproducten, biologische groenten en producten van weidegang. EPA-niveaus zijn constant in trek en lage EPA-niveaus bij adolescenten en volwassenen correleren sterk met de ontwikkeling van psychische problemen, waaronder depressie, dyslexie en dyspraxie, hartproblemen, gewrichts- en botaandoeningen, evenals neurodegeneratieve ziekten zoals MS en Parkinson. EPA beschermt ook onze genen en celcyclus en helpt onze stressrespons gereguleerd te houden, dus een voldoende aanbod van EPA gedurende het hele volwassen leven kan een reeks van chronische ziekten helpen voorkomen.
In het latere leven kunnen cognitieve functies en achteruitgang van de hersenen een punt van zorg worden. Wederom is aangetoond dat het handhaven van hoge EPA-niveaus het risico op het ontwikkelen en verergeren van cognitieve achteruitgang en dementie verlaagt. Als u echter iemand kent die al een diagnose van dementie of Alzheimer heeft, zijn hun hersenen al beschadigd en heeft structurele ondersteuning nodig. Op dit punt wordt DHA opnieuw belangrijk en het nemen van een high-EPA-product dat 250 mg DHA bevat, is ook belangrijk om verder verlies van hersenweefsel te voorkomen.
De producten Green Pasture worden alom geroemd om de goede kwaliteit aan visolie - vol met de nodige Omega 3 en 6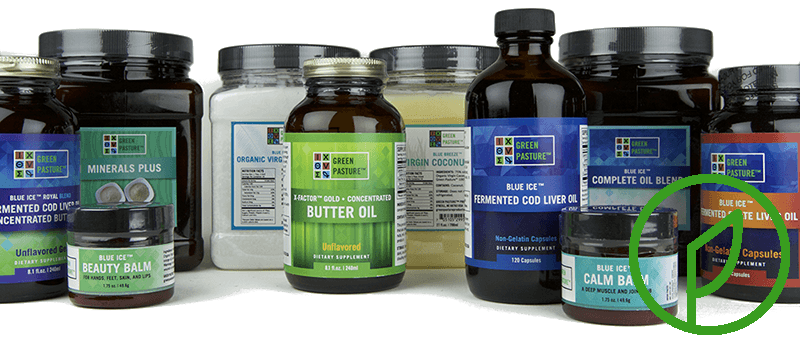 Posted By
Kirsten