Het verhaal achter de suikervrije kombucha van Aard'g
10/06/2020 12:01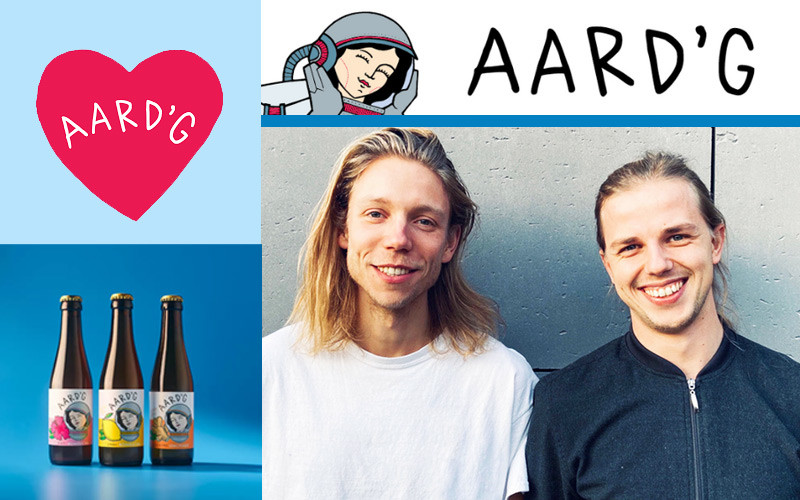 Onlangs sprak ik met Max Rood van Aard'g. Ik was de producten van Aard'g - waaronder suikervrije kombucha - al een aantal keren tegengekomen via Facebook en getriggerd om de website te bezoeken. Eerste indruk? Tooooooffff!! Hier wilde ik meer van weten, dus heb ik Max gevraagd of ik hem mocht interviewen. Super enthousiast als hij is, ging hij akkoord. In dit bericht zijn antwoorden op mijn vragen ;-). Oh, en voordat je je het afvraagt, je kunt de producten van Aard'g vanaf vandaag ook bij ons bestellen!
Vertel eens iets over jezelf en je zakenpartner
Max: 'Hoi Gre, ik ben Max, de helft van Aard'g. Ruim 2 jaar geleden zijn mijn zakenpartner Zeger en ik het bedrijf gestart. Wij komen beiden uit de Noordkop, Zeger uit Heerhugowaard de Noord en ik uit Obdam. Zeger heeft International Business gestudeerd en ik Marketing & Financiering. Door een gezamenlijke vriend kwamen wij met elkaar in contact.'
Hoe is het allemaal begonnen?
Max: 'Eind 2017 belde Zeger me op met de vraag of ik met hem een bedrijf wilde starten. Ik werkte destijds bij een brouwerij en een bedrijf dat whiskey verkoopt. Ik had een grote interesse in het fermentatieproces wat goed van pas komt als je kombucha wilt gaan maken. Geïnspireerd door een huisgenoot die zelf kombucha maakte, was Zeger was al langere tijd enthousiast over kombucha en de mogelijke gezondheidsvoordelen. Vervolgens zijn we samen om de tafel gaan zitten en hebben in 3 maanden tijd een duidelijk plan uitgedacht. In april 2018 was Aard'g een feit.'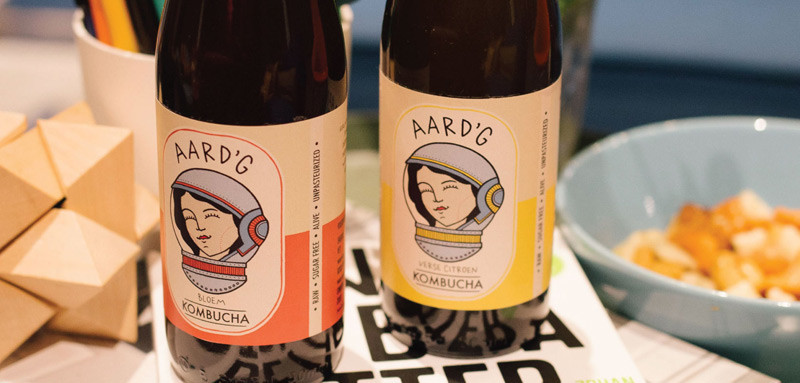 Wat is kombucha?
Max: 'Kombucha is een drankje dat ontstaat uit fermentatie van gezoete thee met levende bacteriën en gisten. Deze levende culturen zijn het allerbelangrijkste ingrediënt om dit drankje te maken en maakt van de zoete thee uiteindelijk kombucha. Alle suiker is uit onze kombucha gefermenteerd, waardoor deze volledig suikervrij is.'
Van kombucha wordt gezegd dat het heel goed is voor de darmflora, hoe zit dit?
Max: 'Dat klopt, onze klanten geven verschillende gezondheidsvoordelen aan door het gebruik van kombucha. Wij hebben klanten die al 2 jaar kombucha gebruiken voor verschillende kwalen. Zij geven bijvoorbeeld aan dat het een positieve invloed heeft op hun maag- en darmklachten, zoals prikkelbare darmen en constipatie.'
Waar staat Aard'g voor?
Max: 'De visie van Aard'g is gebaseerd op 3 pijlers; aardig zijn voor jezelf, voor elkaar en voor de natuur. Door onze kombucha te drinken ben je aardig voor jezelf. Onze producten zijn namelijk vrij van E-nummers, en kunstmatige of natuurlijke suikers. Wij zijn aardig voor elkaar door onze producten te laten produceren op een sociale werkplaats, zo geven wij terug aan onze medemens. En we zijn aardig voor de natuur door alleen te werken met ingrediënten die rechtstreeks uit de natuur komen en biologisch zijn geteeld. Wij noemen dit plant-Aard'g!'

Wat maakt jullie kombucha zo bijzonder t.o.v. andere merken?
Max: 'Veel mensen die kombucha kopen, denken dat dit heel gezond is. Dat is meestal ook wel zo, maar vaak zit het ook vol met suiker. Even ter vergelijking: de betere kombucha die in Nederland verkrijgbaar is bevat 5% suiker, maar sommige andere kombucha bevat net zoveel suiker als cola. Aard'g is volledig suikervrij en dus zelfs geschikt voor diabetici. Dit is redelijk uniek op de Nederlandse markt. Daarnaast bevat onze kombucha maar 4 calorieën per 100ml en zijn er geen zoetstoffen aan toegevoegd.'
Aard'g kombucha en limonade: vanaf vandaag verkrijgbaar bij Plent
Wij zijn al fan van Aard'g! Wat een aardige jongens en wat een topvisie! Dat delen wij graag met jullie. Daarom zijn de kombucha en levende gember limonade van Aard'g vanaf vandaag te bestellen op onze webshop.
Bestel hier Aard'g Kombucha en Levende Gember Limonade: