Het Microbioom: 8 tips voor gezonde darmen
11/07/2019 12:14
Het microbioom: 8 tips voor gezonde darmen
In mijn vorige blog vertelde ik over het microbioom en hoe een groot deel van je gezondheid bepaald wordt door de gezondheid van je darmen. Met onderstaande tips kan jij het microbioom in je darmen positief beïnvloeden en voor jou laten werken. De tips gaan vooral over het optimaliseren van je darmgezondheid, dus niet het gehele microbioom.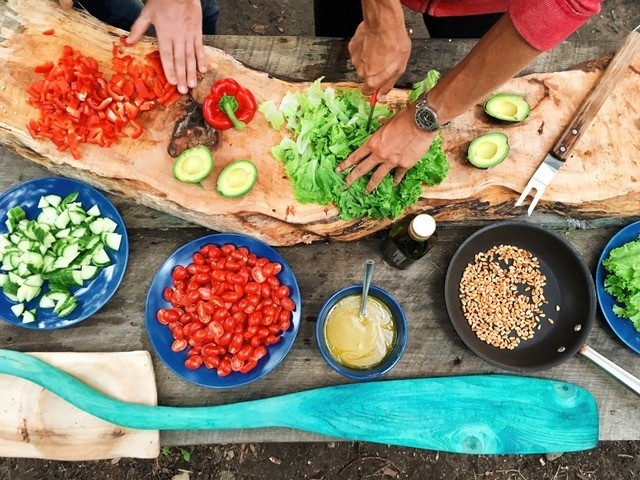 Het is belangrijk om je te realiseren dat deze wetenschap nog jong is en dat er nog veel ontdekt gaat worden in de komende decennia. Onderstaande adviezen zijn gebaseerd op de inmiddels bevestigde voedingsadviezen van zowel het Voedingscentrum als de World Health Organization.
Eet vezelrijk: de microben in je darmen worden gevoed door de vezels die jij eet. Plantaardige voeding is rijk aan voedingsvezels; groenten, fruit, peulvruchten (linzen, bonen, erwten etc.), volkoren granen, noten en zaden zijn ware vezelbommetjes!
Probeer zoveel mogelijk verschillende groenten te eten op een dag: iedere vezelbron bevat weer andere soort micronutriënten (vitamines, mineralen etc.) en vezels. Voor een grote variatie aan microben in jouw darmen, is het dus belangrijk om gevarieerd te eten en groenten lenen zich hier uitstekend voor.

Tip: Zelf eet ik altijd groenten bij zowel mijn lunch als diner. Ik kies er bewust voor om tijdens de lunch andere groenten te eten dan tijdens het avondeten. Dit is niet alleen lekker voor de smaak, maar zo krijg je ook al snel 10 verschillende soorten groenten per dag binnen!
Kruiden en specerijen zijn je vriend: dit is weer een manier om veel variatie aan te brengen in je voeding en daarmee je microbioom te ondersteunen. Specerijen en kruiden zijn ook nog eens rijk aan micronutriënten én ze maken je eten heel smaakvol, zonder dat je veel zout over je eten hoeft te gooien. Win-win!
Probeer dagelijks één of meerdere bronnen van gefermenteerd eten of drinken toe te voegen aan je eten en varieer hiermee: tempé, (soja- of kokos)yoghurt of rauwmelkse zuivel, miso, kimchi, kombucha, kefir, zuurkool, augurken, azijn zijn slechts een aantal voorbeelden van gefermenteerde voedingsmiddelen. Dit zijn allemaal natuurlijke probiotica. Probeer ook hier weer goed (en smaakvol!) mee te variëren.
Wist je dat aardappelen, pasta en rijst heel anders door je lichaam worden opgenomen als je ze koud eet? Het zetmeel in deze voedingsmiddelen wordt dan resistent. Dit betekent dat jij dit resistente zetmeel zelf niet of moeilijker kan opnemen in je lichaam, maar dat de microben in je darmen een feestmaal voor hun kiezen krijgen!
Eet zo min mogelijk bewerkte voeding: hier zit over het algemeen weinig voeding in voor je microbioom en wat geen voeding krijgt, sterft uit. Ditzelfde geldt voor je microbioom. Een junkfood dieet zorgt voor een minder groot én minder divers microbioom.
Onderschat de invloed van de rest van je leefstijl niet: niet álles is op te lossen met voeding, hoe graag we dit vaak ook willen geloven. Alle leefstijlfactoren hebben ook hun invloed op het microbioom in je darmen. Beweeg dagelijks, slaap voldoende, probeer stressfactoren in je leven te minimaliseren, zorg voor dagelijks ontspannende activiteiten en zorg dat je een warm en veilig sociaal netwerk hebt. Ook (offline!) sociale contacten zijn van grote invloed jouw gezondheid.
En last, but not least: Geniet en leef, niet alleen voor je eigen gemoedstoestand, maar ook voor de gezondheid van je darmen!
Posted By
Lotta Breed