Fit & healthy volgens Kimberley van momontop.nl
29/04/2019 21:01
Kimberley is getrouwd, moeder van twee jongens, is parttime werkzaam voor de universiteit en ook nog eens fanatiek sporter.
Daarnaast is ze founder van blog Mom on Top. Op haar blog kan je alles lezen over gezondheid, sport, mode en kinderen. Een platform 'for the healthy mom'.
Vanaf welk moment besloot je aandacht te besteden aan je healthy lifestyle?
Kimberley: 'Na de geboorte van mijn oudste zoon vond ik het tijd om wat te doen aan mijn figuur. Niet dat ik wilde afvallen, maar ik wilde wel wat meer gespierder worden. Ik begon met een ab challenge. Na een aantal weken zag ik zoveel verschil, dat dit een soort verslavend werkte. Ik wilde meer spiergroepen trainen en fitter en strakker worden.'
Naast dat je bezig bent met je healthy lifestyle, heb je ook nog eens een gezin. Vertel hoe doe jij dit allemaal?
Kimberley: 'Poeh. Soms denk ik dat het me allemaal niet lukt, maar elke dag ben ik weer blij dat het weer gelukt is. Qua sporten maak ik afspraken met mijn man. Hij heeft bepaalde sportdagen en ik ook. Zo is er altijd iemand thuis voor de kinderen. We sporten meestal 's avonds als de kinderen op bed liggen of soms overdag samen met de kinderen. We gaan dan bijvoorbeeld een rondje hardlopen met de kinderen erbij op de fiets.'
Nu het mooier weer wordt is bij veel mensen de motivatie ver te zoeken om gezond bezig te zijn. Hoe zorg jij ervoor dat je gemotiveerd en geïnspireerd blijft?
Kimberley: 'Mooier weer is voor mij juist extra motivatie. Dat betekent namelijk klaar worden voor het bikiniseizoen. Daardoor train ik juist wat vaker en doelgerichter. Even een extra buikspierworkout bijvoorbeeld.'
Als je op vakantie gaat of even weg bent, blijf je dan ook bezig met je voeding & beweging? En hoe pak je dit aan?
Kimberley: 'Op vakantie betekent wel echt op vakantie. Ik ben niet iemand die dan daar een sportschool opzoekt ofzo. Ik wandel wel graag op vakantie of ga hardlopen in de natuur. Dus op zich is dat wel actief. Qua eten kijk ik wel altijd naar balans. Het hoeft niet allemaal supergezond, maar alles met mate.'
Je favoriete spring/summer gerecht op dit moment?
Kimberley: 'Ik ben gek op een koude pasta pesto voor de zomer. Het is ook supermakkelijk te maken. Je kiest een pasta naar keuze, kookt deze en spoelt hem af met koud water. Vervolgens doe je er groene pesto doorheen, wat tomaatjes, rucola, pijnboompitten en wat echt heel lekker is, is onder je pasta een lekkere plak carpaccio leggen.'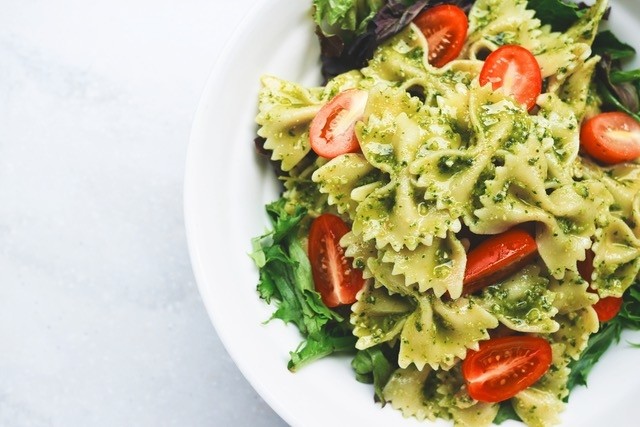 Wat wil je ons graag meegeven als het gaat om fit & healthy blijven deze zomer?
Kimberley: 'De zomer is altijd een grote motivatie om te gaan sporten, want je hebt minder kleding aan, dus je wilt er graag fit uitzien. Begin daarom nu al lekker met doelen stellen. Wat wil je deze zomer? Strakkere benen, buik, billen? Een beetje gewicht eraf of er aan, dat kan ook natuurlijk. Als je nu gaat werken aan je doel, zal je de zomer geen probleem hebben om er fit en gezond doorheen te komen.'
Posted By
anna van neerven