Fit & healthy volgens Bastiaan Lammers
17/05/2019 13:33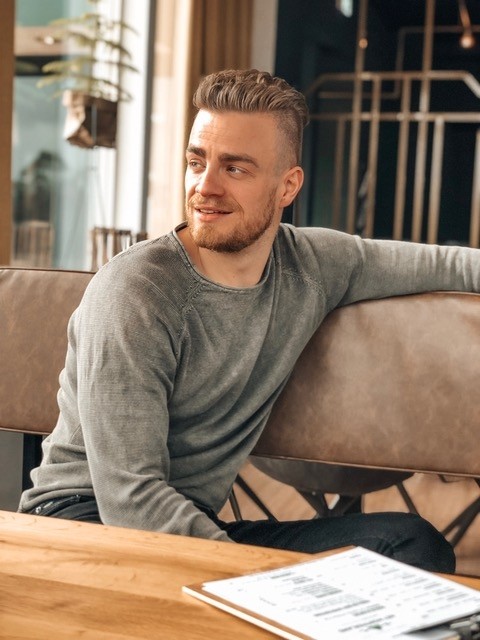 Bastiaan Lammers woont samen met zijn vriendin Lieke in Oldenzaal, oorspronkelijk komt hij uit Doetinchem. Op dit moment komt hij net uit het speciaal & praktijkonderwijs, daarnaast werkt hij in de sport, horeca en loopt ook nog eens stage bij FC Twente. Een hele switch voor Bastiaan: 'Het onderwijs bood mij op dit moment geen verlenging, wat maakt dat ik wat anders moest zoeken. Vroeger heb ik een flink aantal jaren in de horeca gewerkt in een goed restaurant waar ik altijd bezig was met jawel, eten! Doordat ik nog een studie volg (MWD/minor prestatiepsychologie) waar ik bijna mee klaar ben, vond ik het voor mezelf niet handig om hals over kop een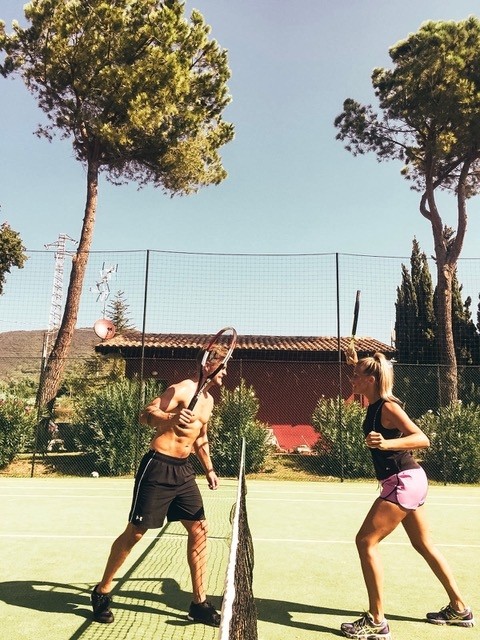 nieuwe baan te gaan zoeken. Op dit moment kan ik heerlijk werken in de horeca en bezig zijn met mensen en met eten. Daarnaast maak ik een aantal uren als Personal Trainer en geef ik groepstrainingen bij een locale PT-studio.'
Vanaf welk moment besloot je aandacht te besteden aan je healthy lifestyle?
Bastiaan: 'Als ik daar goed over nadenk zou ik zeggen dat dat de laatste vier jaar is ongeveer. Ik heb altijd gevoetbald vroeger, wat maakte dat ik altijd wel met trainen, plannen en voeding bezig was Op mijn 25e moest ik daar helaas mee stoppen door een enkeloperatie. In de drie jaren daarna ben ik nog drie keer geopereerd aan beide enkels. Door die operaties wist ik eigenlijk niet meer zo goed wat ik met mijn sporten aan moest.
Ik ben toen wat obstacle runs gaan lopen (met veel pijn en moeite!), maar de drang om iets met bewegen te blijven doen was er wel. Toen we verhuisden naar Oldenzaal ben ik toch maar naar de sportschool gegaan. Omdat ik simpelweg niet wist wat ik anders moest doen. Voetballen of andere sporten zaten er gewoon niet meer in. Gaandeweg merkte ik dat me het sporten weer triggerde om meer uit mijzelf te halen. Door mijn sportopleiding en achtergrond wist ik wat ik deed en wat ik moest doen. Ik weet nog goed dat we op een verjaardag waren, ik lekker aan de taart en de koffie zat, naar beneden keek en een goed buikje zag en dacht "hmmm, misschien moeten we daar eens wat mee doen." Een bepaalde schaamte? Doordat ik weinig sportte merkte ik dat ik vermoeider werd, ongezonder at en ik geen ritme meer had.
Dat moet het keerpunt zijn geweest om dingen anders te gaan doen. Sindsdien is er veel veranderd en is ook mijn lichaam veranderd. Als mensen nu zeggen: "ja maar voor jou is het makkelijk, jij ziet er goed uit" vergeten ze er wel bij te denken dat ik daar nu drie jaar, elke dag van het jaar mee bezig ben. Ondertussen ben ik sinds drie maanden van fitness naar Crossfit verhuisd en dat is voor mij een hele goede keuze geweest. Door de diversiteit van conditie en kracht merk ik dat mijn lichaam sterk blijft. Train ik niet dan ga ik heerlijk naar buiten om te wandelen, om zo toch aan mijn beweging te komen!'
Hoe blijf jij gemotiveerd en geïnspireerd om te werken aan je healthy journey in de lente/zomer periode?
Bastiaan: 'Deze vraag is mij al vaker gesteld. Persoonlijk denk ik dat dit door mijn operaties kwam. Vier operaties in vier jaar is elke keer een aantal weken en maanden revalideren. Het besef kwam bij mij vanzelf, als ik niks doe veranderd er niets! Dus ik moest wel en ik denk dat daar die drive vandaan komt.
Ik heb zelf mogen ervaren dat, ook al zijn er dingen die je niet meer kunt er altijd mogelijkheden zijn. Als ik kijk naar hoe ik het jaar beleef met mijn trainen en voeding heb ik daar maar één woord voor: continuïteit. Een paar weken geleden schreef ik op Instagram een kort stukje over de Anti-dieet week. In die week wordt er aandacht besteed aan het dieet verhaal. Mijn mening: volg nooit een dieet. Alles wat voor jou nieuw is moet je proberen en je moet er ook aan wennen. Waarom doe je dat dan met je lichaam niet? Mensen willen te veel nieuwe dingen en resultaten in een te korte tijd en dat werkt niet. Als ik kijk naar mijn eigen journey ben ik daar elke dag van het jaar mee bezig en dat doe ik nu al een hele tijd.
Die continuïteit in mijn training en vooral voeding zorgen ervoor dat het nu niet meer moeilijk is om mij ergens aan te houden. Het is een levensstijl geworden. Dat maakt ook dat ik af en toe lekker kan genieten van goed eten en een biertje op zijn tijd! Dus ook in de zomer. Het wordt warmer, we trekken weer andere kleding aan en dan ineens moeten we weer bezig zijn met ons lichaam voor de zomer want "ik moet ik mijn zwembroek of bikini! HELP!" Wat nu als je daar eerder mee begint en voor jezelf wat gaat zoeken wat bij je past? Uiteraard kijk ook ik op social media naar wat mensen allemaal doen. Zelf heb ik een aantal goede vrienden die gestudeerd hebben in sport &voeding en zij helpen mij af en toe om de puntjes op de i te zetten. Ik raad mensen aan dat ook te doen als ze veranderingen lastig vinden. Iedereen is tegenwoorden blijkbaar "professional" in voeding & sport op dit moment.
Stop met die shortcuts en ga op zoek naar mensen die er verstand van hebben voor een levenslang resultaat! Je eigen lichaam gaat uiteindelijk veranderen en hierdoor ga je veranderingen aan je lichaam zien. Wat je ziet aan je lichaam is het gevolg van wat jij doet en de keuzes die je maakt en uiterlijk mag daarom nooit het hoofddoel zijn.'
Als je op vakantie gaat of even weg bent, blijf je dan ook bezig met je voeding & beweging? En hoe pak je dit aan?
Bastiaan: 'Zoals ik al eerder aangaf is het echt een levensstijl geworden en het gezond eten & bewegen is helemaal eigen geworden. Ik zie en ervaar het nu ook niet meer als iets speciaals, maar echt als een stukje van mezelf. Dus ook op vakantie ben ik ermee bezig.
Wat de meeste mensen ervaren bij een vakantie is rust. Niks moeten en alle routines die we normaal gesproken hebben laten we los. Denk hierbij aan: uitslapen en eten wanneer het uitkomt. Wat ik probeer en ook adviseer, is om die routine tijdens je vakantie gewoon aan te houden. Wie zegt dat met niks doen je lichaam optimaal rust pakt en hersteld? Als je dan terugkomt van vakantie is het ook niet moeilijk om die structuur en routine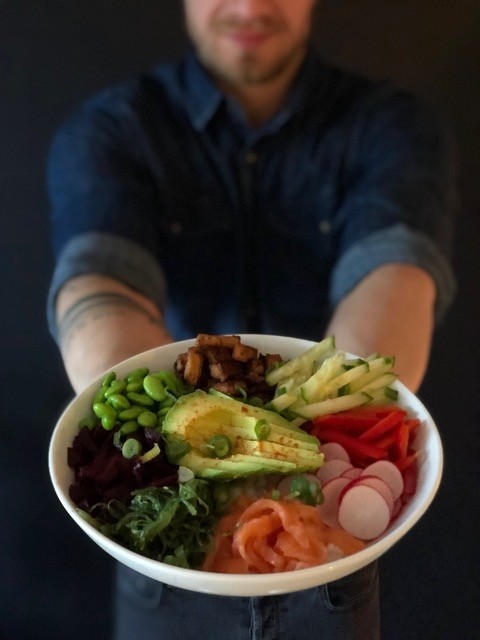 weer op te pakken. Want meestal is dat waar we dan tegenaan lopen.
Natuurlijk geniet ik wel tijdens mijn vakantie en laat ik de teugels iets vieren, maar niet extreem. Er zijn genoeg dingen waar je heel simpel rekening mee kunt houden. Ik weet ondertussen wat mijn lichaam nodig heeft. Als we bijvoorbeeld uiteten gaan dan is vol=vol, of ik laat het toetje staan en neem in plaatst daarvan heerlijke koffie.
Afgelopen jaar zijn we met de tent naar Italië geweest. Super tof! Maar hoe doe ik dat dan onderweg of daar? Voor de lange autorit neem ik iets gezonds mee. Als we lunchen of ergens eten kan dat ook zeker! Ik let er dan vaak op van WAT ik neem en WAT er op mijn broodje zit. Zo zijn het elke keer kleine dingen wat maakt dat ik niet alles laat gaan, en mijn structuur behoud. Hierdoor kan ik ook lekker in de avond genieten van een biertje en wat chips.
Gelukkig is mijn vriendin ook sportief en daardoor plannen we regelmatig activiteiten op vakantie. Tennissen, wandelen, hardlopen, zwemmen, we zoeken altijd wel iets om te doen. Het hoeft niet extreem, als je maar beweegt! Mocht je dus op pad gaan of op vakantie gaan, blijf lekker doen waar je mee bezig was. We zijn te snel geneigd om ons patroon aan te passen aan iemand anders omdat die ander er niet mee bezig is. Schaam je er niet voor en wees er trots op dat jij dat WEL kunt!'
Bastiaans favoriete spring/summer gerecht...
Bastiaan: 'Oeh dat vind ik een moeilijke! Er zijn zoveel ontzettende lekkere gerechten die ik wel kan opnoemen, dus een keuze maken is lastig. Wat ik zelf in de spring/summer lekker vind om te eten zijn burgers. Dat heeft toch iets zomers. Heerlijk met een fris drankje erbij. En nu zal menig persoon denken dat burgers ongezond zijn en niet goed. Maar wat is niet goed? Burgers maak ik eigenlijk altijd zelf zodat ik weet wat er op zit! Een tijdje geleden heb ik een Poké Bowl gemaakt met zalm. Deze was ook heerlijk.
Burgers passen voor mij echt bij de zomer en een poké bowl is rijk aan groenten, frisheid en mooie kleuren, echt zomers!'
Wat wil je ons graag meegeven als het gaat om fit & healthy blijven deze zomer?
Bastiaan: 'Blijf dicht bij jezelf. Dat klinkt misschien erg zweverig maar als je leest wat er staat begrijp je het. Op dit moment denk ik dat de meeste aanlopen tegen sociale druk en een fysieke beperking. Bij dat laatste; kijk naar wat je wel kunt in plaats van wat je niet kunt. Het is zo makkelijk om te zeggen ik ga niet sporten want.. en noem hier maar de meest simpele reden op die je kunt bedenken. Als ik naar mezelf kijk ben ik, ondanks mijn fysieke beperkingen er altijd voor gegaan. Puur door te kijken naar wat ik wel kan. Bouw routine op. Hiermee bedoel ik dat je niet bij de eerste zonnestralen je zorgen moet gaan maken hoe je de zomer door gaat komen en of je wel in je bikini of zwembroek past. Kijk naar je huidige routine en probeer met kleine stapjes die routine er steeds meer in te slijpen zodat je het hele jaar door er profijt van hebt.
Ik denk ook echt dat iedereen zich weleens afvraagt, "voor wie doe ik het eigenlijk, het trainen?" Als het goed is doe je dat voor je zelf en niet voor iemand anders. Door social media van tegenwoordig is het moeilijk je niets aan te trekken van wat anderen vinden of doen. Bijna iedereen is tegenwoordig "expert" in sporten & voeding. Wat eigenlijk heel bijzonder is. Je wordt dagelijks geconfronteerd met het leven van een ander. Ik denk dat dat erg confronterend kan zijn en voor velen werkt dat averechts.
Zet daarom social media positief in! Ontvolg die 'beautiful people' zoek naar mensen die je echt inspireren en waar jij je in kunt vinden. Train daarnaast met een goede trainer die geschoold is en weet wat jij doet en die je verder kan helpen.
Als laatste wil ik meegeven dat je moet genieten! Al die prikkels van wat we 'moeten' om er goed uit te zien kunnen averechts werken voor veel mensen. Ga eens kijken naar wat jij nodig hebt: hoe vaak wil je in de week trainen? Wat ga je daarvoor eten? Luister je naar je lichaam? Zo kom ik toch weer uit op die routine. Je kunt niet iets veranderen door er hals over kop aan te beginnen. Begin klein en bouw dat uit tot iets wat bij je past, enjoy the summer!'
Benieuwd naar Bastiaans healthy lifestyle en wil je geinspireerd blijven/worden? Volg hem dan via Instagram @bastiaanlammers!
Posted By
anna van neerven